iPhone 3Gs Speech Translator App, Featured in Apple "Backpacker" TV Ad
Apple's latest iPhone ad "backpacker" has this really cool iPhone translator app. It's like having a personal translator. Speak into the iPhone app and it can translate between English and Spanish!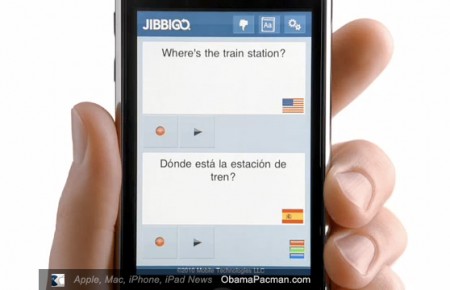 Apple iPhone 3Gs Ad: Backpacker
One step closer to an universal translator iPhone app:
The iPhone app featured toward the end of the Apple TV Ad is the Jibbigo Speech Translator. It translates both to and from the different languages, in both speech and text. Available in 3 languages:
The price range of the iPhone speech translator apps range from $24.99 to $27.99.
But considering that Spanish dictionary in plain paper form, without any spoken translation feature, can cost as much as $50 for the Oxford Spanish Dictionary, $33 at [amazon link
], the iPhone app could be worth it for those who can't differentiate mañana from manzana.
Note, many users recommend Apple's current latest and greatest iPhone 3Gs for these apps due to the processing power required. The Spanish-English app has decent reviews, but the Chinese and Japanese versions seem to be newer and not as well tested.
I wonder if it understands Argentine Spanish?
No Data Connection Charge
The Jibbigo Speech Translator iPhone App does not require internet access to work. Thus, there is NO data connection charges while traveling!
via
Apple iPhone Ads [apple]

Related Posts