iPad X-Ray Made with Mac
Want to know what the inside of the Apple iPad tablet look like? Here's the closest thing to having X-ray vision, made with Mac.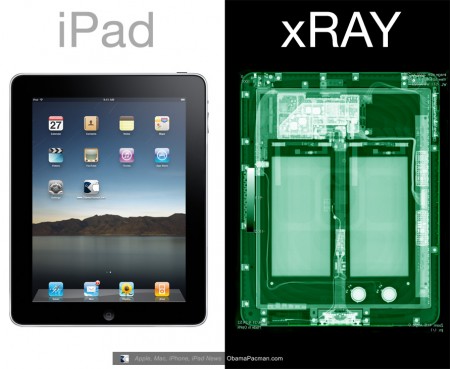 Recently, there was an iPad disassembly stop motion video, now you an see the iPad components via a medical x-ray.
A Japanese blog, which roughly translates into "Orthopedic Dr. Ambition newly opened (reckless) diary," posted the iPad xray. Doctor Ambition seems to be an Apple fan and Mac user. The iPad x-ray was processed with Mac OS X OsiriX DICOM Viewer medical imaging software.
Gallery: Apple iPad tablet X-Ray
OP Editor has performed some photoshop enhancements, and made image composite with front and back photo of the Apple iPad, using the right orientation for the iPad x-ray.
[miya sei (Japanese)
via a bunch of places and giz]

Related Posts