iPad Reviews: Intuitive, New Category of Gadget
The initial reviews of iPad Apple tablet, the original slate computer are in from New York Times, Wall Street Journal, USA Today, & Chicago Sun Times, and they are glowing.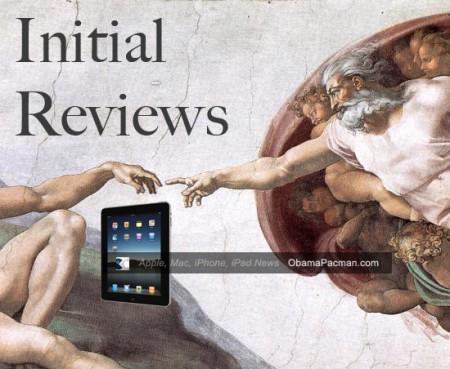 Apple iPad Reviews
Highlights of some high profile Apple iPad reviews.
David Pogue [New York Times]
"The iPad is so fast and light, the multitouch screen so bright and responsive, the software so easy to navigate, that it really does qualify as a new category of gadget. Some have suggested that it might make a good goof-proof computer for technophobes, the aged and the young; they're absolutely right."
Walter Mossberg [Wall Street Journal / All Things Digital]
"Apple iPad Review: Laptop Killer? Pretty Close"
Edward Baig [USA Today]
"It's hard not to be impressed." and "The first iPad is a winner. It stacks up as a formidable electronic-reader rival for Amazon's Kindle. It gives portable game machines from Nintendo and Sony a run for their money. At the very least, the iPad will likely drum up mass-market interest in tablet computing in ways that longtime tablet visionary and Microsoft co-founder Bill Gates could only dream of."
Andy Ihnatko [Chicago Sun Times]
"The iPad user experience is instantly compelling and elegant. It's not every computer and every function. It's a computer that's designed for speed, mobility, and tactile interaction above all other considerations."
ABC Preview
"Whether the iPad is a hit or not, new business are banking on it, and the competition is worried."
iPad Magical / Intuitive?
Before handling the iPad, some of these critics thought that "it's just a giant iPod touch," but changed their mind once they got their hands on the Apple tablet. Overall, the critics are impressed.
The iPad interface is responsive. Battery life is said to exceed Apple's rating of 10 hours for video. Display is said to be better than that of Kindle, a dedicated eBook reader. No mention of magical but the iPad interface is definitely intuitive. The iPad price is competitive too.
We will be in line tomorrow morning for the iPad release. Can't wait!
via
Early iPad Reviews: NYTimes, USA Today, All Things D, Sun Times, ABC Video [macrumors]

Related Posts