iPad Magical: Electronic Arts Ad "Feel Magic"
EA, maker of video games, did not exactly say the magic word about the new Apple iPad tablet. But OP Editor noticed their latest ad: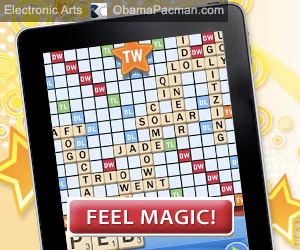 This Electronic Arts ad for their Scrabble [itunes link] game app for iPad says "Feel Magic!"
Guess it's a funny geeky homage to Apple.
What else would it be referring to? Probably inspired by the official words from Apple: "A magical and revolutionary product at an unbelievable price," also referred in the iPad Keynote in which Steve Jobs called the iPad magical and revolutionary.

Related Posts