iPad Car Dash Mod, Part 2 (videos)
The guys first at installing iPad in a car are back with 2 quick videos: Apple iPad in a second car, plus details of technical challenges and progress of the first iPad dash mod.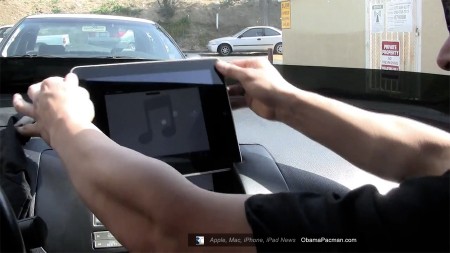 Original iPad car dash mod guys SoundManCarAudio have been working hard in the past 2 weeks.
Second iPad Car Dash Mod
"Second iPad in a car": This iPad mod installs an iPad dock in front of a smaller display in a Nissan Maxima.
Original iPad Car Dash Mod, Part 2
The car modder ran into some challenges with the original iPad install.
1. Charging
iPad uses more power than iPod or iPHone so older accessories charge slowly or don't charge. This is easy to solve with a new accessory, but they built a custom dock connector for their iPad dash mod.
2. Getting audio out of the dock connector
They can't seem to get digital audio out of their dock connector. They've even solder cables to try different pin configurations. They ended up doing a temporary workaround of using iPhone as digital source and iPad as analogue source. (The Apple iPad dock has a line out, perhaps they can modify that?)
Anyway, kudos for pioneering the iPad car installs.
via
First iPad in a car, Part 2 [soundmancaraudio]
via modmyi

Related Posts