Forbidden Apple: iPhone 4G Prototype, the New Jailbait?
The forbidden Apple. You know it's wrong but you can't resist it. Gizmodo took a bite from a shady person and might be in some legal trouble.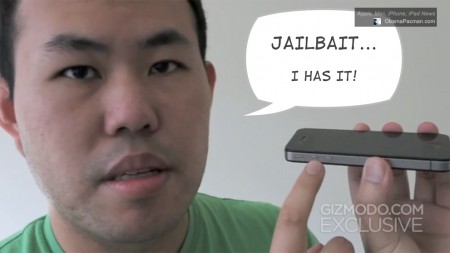 Police raided home of Gizmodo writer Jason Chen last week to collect evidence for a criminal investigation in the saga of the lost Apple iPhone 4g prototype.
Rapid Enforcement and Allied Computer Team (React), the Silicon Valley's High Technology Task Force, served the search warrant. They seized 22 items from the home of Jason Chen, including an Apple MacBook white, iPad 32GB, MacBook Pro, iPhone 16GB, another MacBook Pro.
And he didn't even get a "lousy" t-shirt spoof!
Other notes, police found the person who took the iPhone prototype from the Gourmet Haus Staudt beer bar on March 18. The identity of that person is not released at this time.
California Shield Law
Some believe California Shield Law that provides legal protections to certain activities of journalists might apply to the Gizmodo iPhone 4g prototype case. The investigation of Gizmodo writer Jason Chen's properties is currently halted to determine the legality of the seizure.
Criminal Investigation
On the flip side, the origin of the iPhone prototype is suspicious, even the best version of the story published by Gizmodo has some plot holes:
The person who took the lost iPhone prototype knew the name of the person who owns it (he saw iPhone engineer Gary Powell's facebook information before the iPhone prototype was remotely wiped by Apple during the night), but never contacted him.
The person who took the iPhone never informed the bar to inform of his possession of the Apple property. Gary has contacted the bar repeatably in the following days to see whether anyone has found the Apple iPhone 4g prototype.
Instead, the person who took the iPhone claimed that he tried to call low level tech support who is unlikely to know anything about prototypes (so he can said he tried to return it), then eventually the iPhone prototype was sold to Gizmodo for $5000.
The iPhone was reported stolen, and due to the value sold, it's a felony crime to receive such stolen property knowing that its origin is not quite legit.
The question is, does journalist privacy protection laws protect them for crimes in this case?
Good News, Bad News
Precedence shows that if a journalist committed a crime to publish a story for the public good, then generally the Shield laws apply.
But in this case, Apple iPhone 4g prototype is a trade secret. Publishing details of the product does not benefit the public except for entertainment value. It benefits manufacturers of mobile phones who produce iPhone knockoffs.
The legalities of the criminal investigation into Gizmodo be determined in court.
What do you think? Do you think Jason will get a jailbreak?

Related Posts