First iPad Classical Concert Performance Debut! (Video)
Chinese pianist Lang Lang, known for his flamboyance, plays a surprise encore performance on the Apple iPad. Possibly the first concert performance debut of the Apple iPad tablet.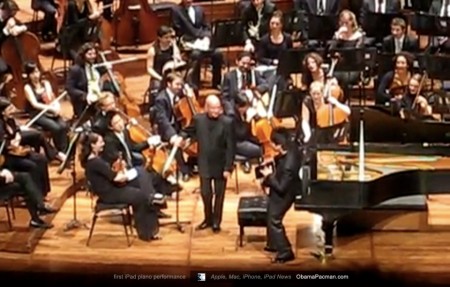 At a concert at San Francisco Symphony with the Schleswig-Holstein Festival Orchestra featuring outstanding young musicians under 27, Chinese piano talent Lang Lang whips out an iPad and performed Flight of the Bumblebee as a surprise encore performance. He evened played both the piano and iPad at the same time for a few notes!
iPad Concert Debut, Flight Of The Bumblebee Encore Performance by Lang Lang
Lang Lang's encore performance with iPad is playful with some intentional humorous pauses.
Lang Lang is a well known musician with an impressive resume. By 14 he was a featured soloist at the China National Symphony's inaugural concert. He has played at Carnegie Hall and a number of major symphonies around the world. Good to see that Lang Lang is an iPad fan!
Lang Lang is reported to use the iPad app Magic Piano [itunes link] by Smule.
How did he do it? Magic Piano has a mode which plays the right notes no matter which part of the display is used. However, even with that setting enabled, the timing of the notes and combination of the keys are still controlled by the iPad user. Thus the performance quality depends on user's musicality.
So when I play it, it sounds pretty close to cats playing Cat Piano. Maybe I need some piano lessons? =p
Here's Lang Lang on a real piano:
Magic Piano [itunes link]
via
Chinese pianist Lang Lang plays Flight Of The Bumblebee. On an iPad [musically]

Related Posts