First Ever iPad Car Dash Mod! iCar? (video)
Within hours of the Apple iPad tablet launch, car modder integrates an iPad for in-dash entertainment console car mount!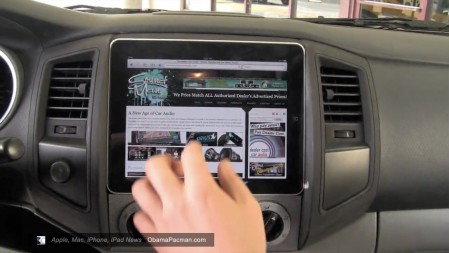 Video: First iPad Car Mount Dash Mod
Does the iPad Car Integration makes it into an iCar?

(video is titled "part 1," but there doesn't seem to be any other parts at this time)
iPad Car Entertainment Console
On the very same day of the iPad release, Sound Man Car Audio from Santa Clarita, California magically integrates an iPad mount into a car dash as part of a high end sound system. Highlights:
Completed on the same day of iPad release (uploaded April 3)
iPad uses special dock to provide optical sound output
Uses high end Macintosh Laboratory Inc (not from Apple) sound system
Looks like a great DIY project for those with some mad car modding skills.
GPS?
What about GPS? I bet that they are replacing the iPad for the iPad Wi-Fi + 3G when it's available, as that would make a great navigation unit. Looks like they might have the internet connectivity covered, I would have to guess some kind of celluar device that provides Wi-Fi within the whole car.
Pretty amazing DIY iPad car mount! Just be sure to hide the iPad or bring it with you when the iCar is parked!
First iPad in a Car [soundmancaraudio]
via Dude installs iPad into his car dashboard [9to5mac]
Gallery: First iPad Car Dash iCar Mod

Related Posts