Brian Hogan: iPhone 4g Prototype Snatcher
The Apple iPhone 4g prototype snatcher (some say thief) has been identified by Wired as the 21 year old Brian J. Hogan who lives 1 mile from the Redwood City bar.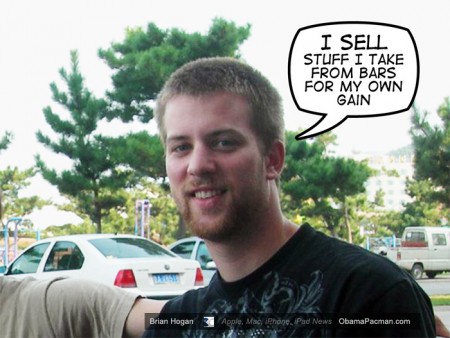 Brian J. Hogan, iPhone Snatcher
The iPhone snatching took place at the German beer bar Gourmet Haus Staudt in Redwood City, California on March 18, 2010. Brian Hogan is the person who took (some say stole) the iPhone 4g prototype that belongs to Apple engineer Gary Powell.
Brian Hogan later sold the iPhone prototype to Gizmodo for $5,000 after attempting to sell Apple's next generation iPhone to various publications.
There is a potential criminal investigation into the incident. San Mateo County Chief Deputy District Attorney Stephen Wagstaffe said that Hogan "is very definitely one of the people who is being looked at as a suspect in theft."
Of course, with possibly felony charges on the horizon, Brian Hogan "regrets not doing more to return the device to its owner," according to a statement provided by his attorney Thursday in response to queries from Wired.com.
Wait, not doing "more"? Did he made "any" attempt at returning the phone?
iPhone Thief or Not?
After taking the iPhone 4g prototype, Hogan checked the phone owner's facebook account. He saw and remembered the account name of the Apple engineer: Gary Powell. However, Brian Hogan made no serious effort to contact Gary or Apple return the Apple iPhone 4g prototype iPhone:
Brian Hogan did not contact Gary Powell
Brian Hogan did not contact Apple
Brian Hogan did not inform the bar that he took an iPhone from their premise
Brian Hogan did not report the property to the police
After taking the iPhone, "a friend of Hogan's then offered to call Apple Care on Hogan's behalf, according to Hogan's lawyer. That apparently was the extent of Hogan's efforts to return the phone." Brian Hogan himself did not try to return the Apple iPhone 4g prototype to its owner.
Instead of doing the right thing to return the iPhone, Hogan tries to place the blame of his greed on Gizmodo. His lawyer claimed that Gizmodo told him that "there was nothing wrong in sharing the phone with the tech press."
The 21 year old Brian J. Hogan attended Santa Barbara City College in 2008. He currently works part time at a church-run community center giving swimming lessons. Hogan deleted his facebook account last week, which likely contains evidence of his crime. Hogan's attorney says. "Brian is the kind of young man that any parent would be proud to have as their son."
What? Proud? That's a pretty big stretch. I don't know of any parent who likes their son to be known as the guy who takes 5-finger discount of industrial secrets.
Even when Brian J. Hogan knew the name of property owner, he sold the property without contacting the owner. So, definitely watch your belonging when you are around Brian Hogan. He might just snatch it to sell online for his own personal gain.
via
iPhone Finder Regrets His 'Mistake' [wired]

Related Posts