Best Buy Sold Out of iPad, More Inventory Coming This Week
Only 4 days after the launch of the Apple tablet, all Best Buy Stores are sold out of iPad.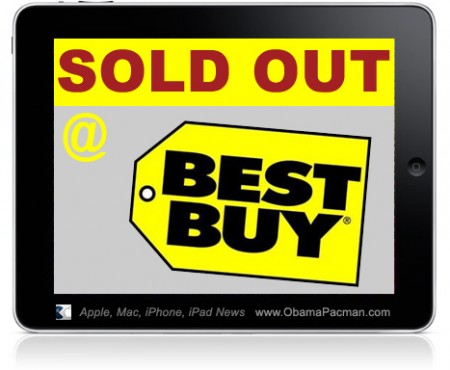 673 Best Buy stores in the U.S. carried the hot new iPad.
Contacting six stores, most sold out of their iPad inventory on Saturday (first day of sales), but one store sold out of the Apple tablet as late as Tuesday, reported cnet.
Best Buy spokesperson Paula Baldwin said: "we expect to have iPad inventory replenished at these locations by Sunday."
Some Apple Stores have sold out on the first day, but just like the iPhone launch, Apple Store are getting limited inventory every day, often selling out by the afternoon.
Not Being Advertised by Best Buy, Yet
Apple tablets are sold out at Best Buy Stores, despite that Best Buy has not even started advertising the iPad yet. People who know about the Best Buy iPad availability are typically those that keep track of technology news, as Apple made an short announcement recently about iPad at BB, but BB is expected to hold off advertising until after the launch iPad rush..
Best Buy is expected to start advertising its iPad this Sunday, which should bring in even more demand.
iPad sold out at Best Buy nationwide [cnet]
via iPad sells out at Best Buy, sees minor Apple shortages [macnn]

Related Posts