Architecture: Winscape Virtual Windows Built with Mac OS X, Controlled with iPhone
Can you say: Apple iHouse has no Windows (especially from Microsoft)? These augmented reality virtual plasma windows are created by ingenuity of a San Jose Mac user, driven by Apple Mac Pro, and controlled by iPhone.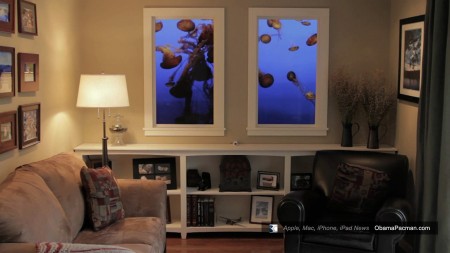 If you think: "Waking up in the same place every morning is boring," the Winscape can help. The software is created by San Jose based engineer, Mac user Ryan Hoagland.
Video: Winscape Virtual Windows, Demo
Not exactly the transparent aluminum of Star Trek, or magic mirrors from storybooks, but these virtual windows are getting closer to science fiction:
2 plasma displays, mounted in windows frames, change their live video according to a user's position in the room, so that the user's perspective is true to real life. Here's a demo:
The Wii Remote acts as a sensor measuring distance of user wearing IR LED transmitter. The Mac Pro uses Apple OS X OpenGL and Quicktime to transform / render the vector view of the HD video in real time.
Video: Making of Winscape Virtual Windows
Video on the construction of the virtual windows, false walls, and bookcase:
Winscape Software Price
The Mac OS X Winscape software is really inexpensive what what it does. For personal use, the price $9.95 for the software and HD scenes shot on high resolution 4k video camera around San Francisco, and downsized, are $10 each. Winscape FAQ page contains links to the software.
The iPhone app is $1.99 [itunes link]
Winscape [rationalcraft]
via Winscape: Apple-powered fake windows [tuaw]
Winscape Virtual Windows Gallery

Related Posts