iPhone iPad OS 4.0 New Features, Multitasking, Ebooks, Games, iAd, & More
Apple previewed the iPhone OS 4.0, with features such as Multitasking, Folders, Unified Email InBox, iBooks Support, more Enterprise features, Game Center, and iAd mobile advertising.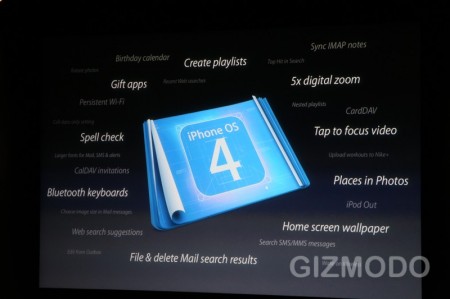 The developer preview of iPhone OS 4 is released TODAY. The new features will be available summer 2010.
iPhone OS 4.0 contains 1500 new APIs designed to open up various iPhone, iPod touch, and iPad functionalities to third party developers.
1. Multitasking Services
Apple iPhone OS 4.0 adds multitasking while preserving battery life and performance, by making these services available to developers:
Background Audio (Pandora)
Voice over IP (VOIP apps and perhaps Skype)
Background location (turn by turn navigation or social networking, users can enable or disable by App)
Push notifications (being used by millions)
Local notifications (apps can set reminders such as when a TV show is on)
Task completion (such as upload photos to Flickr in the background)
Fast app switching (store state of app and resume when you come back)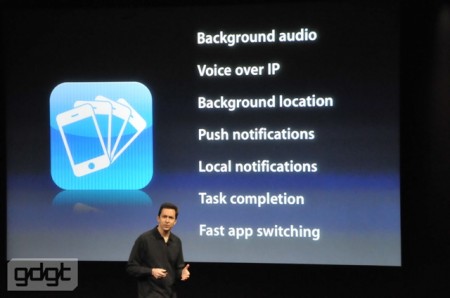 2. Folders for Sorting Apps
Currently 180 apps over 11 pages, with folders in OS 4.0, iPhone can hold over 2000 apps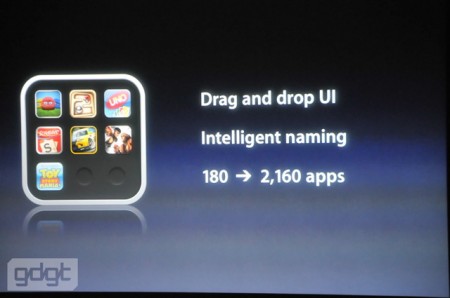 3. Enhanced Mail app
The enhanced mail app in iPhone OS 4.0 includes:
Unified inbox, multiple email accounts come into one screen
Fast inbox switching to go to one account
4. iBooks support
Buy once and read anywhere. Sync current page and bookmarks with iPad.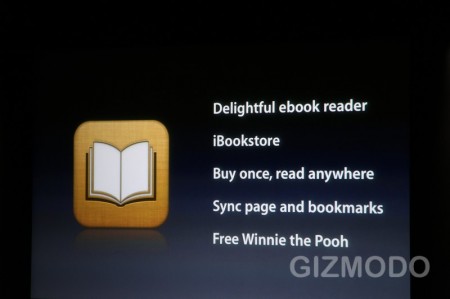 5. Enterprise features
Encryption, Wireless App distribution, multiple exchange accounts, SSL VPN Support, and more.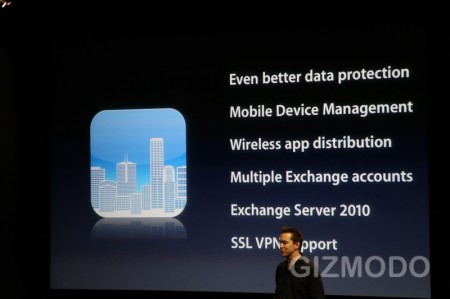 6. Game Center
iPhone OS with 50,000 games and entertainment titles, already has more games than Nintendo DS (4321) and Sony PSP (2477). Now social gaming network is coming to iPhone. Challenge a friend, matchmarking, leaderboards, and achievements.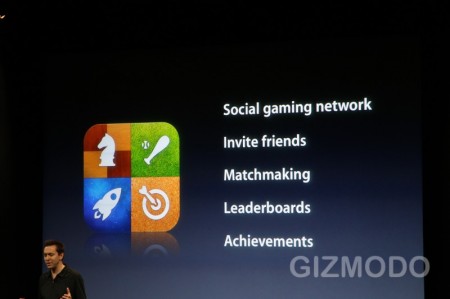 7. iAd, mobile advertising
Optional. No need to open browser to see an ad. Designed for interactivity without leaving the actual app. 60% revenue goes to developer.
Device Support
Available summer 2010. The developer preview of iPhone OS 4.0 is released today.
Device Support for iPhone OS 4.0:
Multi-tasking: iPhone 3GS and latest iPod touch
Some features: iPhone 3G and 2nd gen iPod touch
iPad support this fall
via
live.gizmodo.com
live.gdgt.com

Related Posts