Apple Surpasses Microsoft in S&P Index Weighted Market Cap
Today, Apple surpasses Microsoft to take second place in the Standard & Poor's 500 index weighted market value.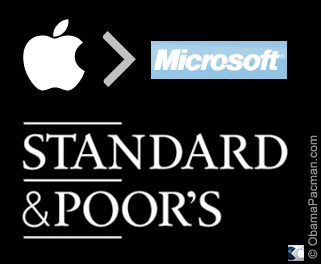 "Apple Inc. became the second-largest company, in terms of market capitalization, on the S&P 500 Thursday, trailing only Exxon Mobil" Wall Street Journal Market Watch reports. "Apple's float-adjusted market cap reached $241.5 billion, surpassing Microsoft Corp.'s index market value of $239.5 billion, said Standard & Poor's."
Standard & Poor's Float-Adjusted Market Cap
The S&P 500 index uses float-adjusted market capitalization, not the more commonly used Market Capitalization.
In a float-adjusted index, the components are weighted by the shares that are publicly available for trading.
In other words, Microsoft is more closely-held than Apple. Microsoft insiders own a much larger percentage of the Redmond company than Apple management with Apple.
Market Capitalization, Apple vs. Microsoft
April 22, 2010
S&P Weighted Market Capitalization
$241.5 Billion Apple
$239.5 Billion Microsoft
Market Capitalization, Market Close 4pm
$241.63 Billion Apple, $266.47/share
$275.30 Billion Microsoft, $31.39/share
Market Capitalization (Approximate), After Hours Trading
$241.5 Billion Apple, $266.36/share
$265.4 Billion Microsoft, $30.28/share
In after-hours trading today, Microsoft has lost about $10 billion in market value. (Not $12 billion reported by MR).
Apple passes Microsoft for second place in S&P 500 [marketwatch]
via macrumors

Related Posts