Apple Stock Hits Record High After Quarterly Earnings Report, Sales Stats
Apple CEO Steve Jobs: "Best non-holiday quarter ever." Almost 3 million Macs, 8.75 million iPhone, almost 11 million iPod sold in recent quarter, Apple "shocked" by high iPad demand.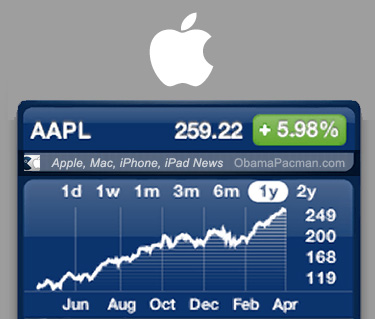 Looks like Apple is continuing its Decade of Apple Conquests, as indicated this week by the results of the most recent Apple quarterly announcement.
For the fiscal 2010 second quarter that ended on March 27, 2010, Apple earned revenue of $13.50 billion and net quarterly profit of $3.07 billion.
"We're thrilled to report our best non-holiday quarter ever, with revenues up 49 percent and profits up 90 percent," said Steve Jobs, Apple's CEO. "We've launched our revolutionary new iPad and users are loving it, and we have several more extraordinary products in the pipeline for this year."
After the Tuesday report, Apple stock closed up almost 8% to record high. Today Apple stocks closed at $259.22, up 5.98% from yesterday.
Apple recently surpassed Walmart as third largest U.S. company by market capitalization.
Apple Quarterly Sales, Fiscal 2010 Second Quarter
Mac: 2.94 Million, 33% growth over the year-ago quarter, $3.8 billion revenue
iPhone: 8.75 million, 131% growth over the year-ago quarter, $5.4 billion revenue
iPod: 10.89 million, 1% decline from the year-ago quarter, revenue growth of 12%
iTunes Store: $1.1 billion revenue
App Store: 4 billion downloads
iPad: Apple is very happy with iPad sales so far (Apple previously reported that half a million iPad were sold during first week of sales)
Apple Revenue, By Product Segment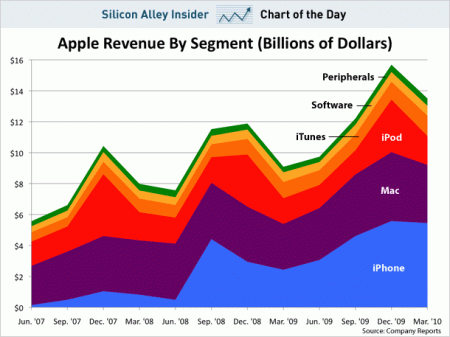 Other notes, Apple reports that App Store is running at close to break even (just like Apple's previously report of running iTunes at near break even). Apple mobile-VoIP-capable iPad 3G is on track for April 30, 2010 release.
Reference
Second Quarter Results [apple]
Revenue [businessinsider]

Related Posts