Apple Sold Over 450,000 iPad in 5 days
This week, Apple CEO Steve Jobs released more numbers on iPad sales, iBooks and iPad App downloads. How does that stack up to Amazon Kindle ebook reader? (Hint, iPad is doing much better than Kindle)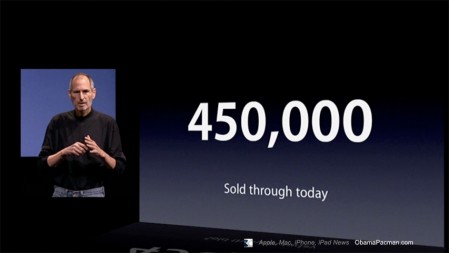 iPad Sales & Stats, 2010 April 3-8
On Thursday Apple CEO announced that through Thursday morning, with just about 5 days of sales, Apple iPad stats:
450,000 iPad tablets sold
600,000 iBooks ebooks downloaded
3.5 million iPad apps downloaded
This is with BestBuy stores sold out of iPad, and many Apple Stores selling out the same day of receiving iPad shipment.
Apple iPhone OS platform also has lots of Apps
3,500 iPad apps in App Store
185,000 iPhone apps in App Store
Best of all? iPad gets lots of love, as Steve Jobs shows: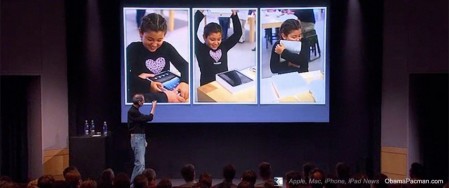 Apple iPad vs. Amazon Kindle
So, how does the iPad, which has an ebook reader, compare to Amazon Kindle eBook reader? iPad is almost at a half a million mark in a week, while Amazon Kindle ebook reader sold at a much slower pace of only 3 million in 26 months.
Apple iPad: 450,000 sold in 5 days
2010 April 3 morning to April 8 morning
Amazon Kindle: 3 million in over 2 years (804 days)
2007 Nov 17 to 2010 Jan 29
Pretty impressive numbers from Apple, considering those numbers don't even include the iPad 3G and international sales yet.
By the way, iPhone OS platform sold more devices in a calender quarter than 2 years of Kindle sales.
Apple iPhone & iPod touch: 85 million in 1014 days
2007 June 29 to 2010 April 8
iPad numbers from
Apple iPhone 4.0 OS Keynote

Related Posts