Apple Publishes iPad iWork Keynote Software Best Practices & FAQ
Apple this week published the best practices to ensure compatibility between Keynote documents on iPad iPhone OS and Mac OS X.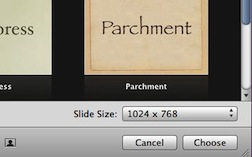 Apple's Keynote on OS X is a very polished software used by many for business, even by a number of CEOs.
But for the newly released iPad Keynote [itunes link], currently at v1.0, a number of power users are having compatibility problems with their desktop presentations not scaling for the iPad. For those users, Apple just published the best practices guide, covering these topic for iPad iWork Keynote users:
Themes supported
Slide size (use 1024×768)
Master Slides supported
Image Scaling (desktop Keynote can be set to auto-resize images)
Apple iPad Keynote FAQ describes:
Fonts supported
Transitions & Builds supported
How to add Video to slide
File Formats supported
How to import / transfer files
What are not transferred from OS X Keynote
Themes to Use, for iPad Keynote Compatibility
10 Themes: White, Black, Gradient, Showroom, Moroccan, Craft, Harmony, Modern Portfolio, Blackboard, and Parchment, are available on Keynote for iPad. Note that's about a quarter of the themes available in desktop version of Keynote.
Made by OP Editor: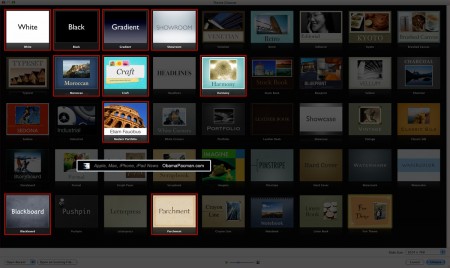 Other notes:
Most of the Keynote Master Slides are supported on iPad
Over 30 popular transitions and builds are available in Keynote for iPad
Over 40 fonts and font families are available in iPad, which can be used with iWork for iPad apps
Apple is selling Keynote App at $9.99 [itunes link]
iPad Keynote Best Practices & FAQ
For those who plan to create and edit Keynote presentation slides only on iPad, you can probably skip the compatibility portions of Apple's guides, and see what applies to your Keynote usage. For those who want to know all the details, read these Apple knowledge base documents:
Keynote for iPad: Best practices [apple]
Keynote FAQ [apple]

Related Posts