Apple iPhone 4.0 iAd HTML5 Based, No Adobe Flash
The new Apple iAd mobile advertising platform will serve interactive ads that look more like entertainment (aka viral videos) instead of annoying flashing flash animation distractions. The best part? Mobile advertising with iAd is created with HTML5.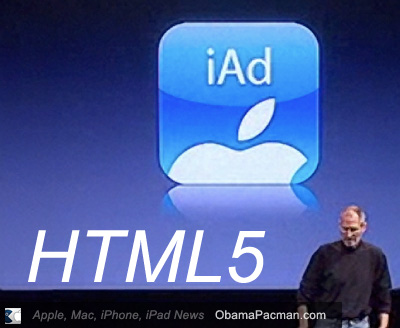 Apple's iPhone 4 introduces the iAd mobile advertising platform: "With it, apps can feature rich media ads that combine the emotion of TV with the interactivity of the web."
But isn't advertising a major use of Adobe Flash? Steve Jobs said in the iPhone OS 4.0 Keynote:
"Here's some news… there's an ad for Toy Story 3 down there… it's a great movie Disney is putting out. I've seen it, it's a really good movie!" Ha! Big laughs. "So all this is done in HTML5 by the way."
After the iPhone 4.0 Keynote, at the Q&A, Apple executives reveal more details.
Q: The development of these rich iAds… will Apple make a development platform for people to make these ads?
A: This isn't necessary. They're all HTML5 ads and people can choose any tools they want. As long as it's HTML5.
Apple iAd delivers interactivity with HTML5
For more on why iAds might change the mobile advertising industry, watch the iPhone OS 4.0 Keynote, under Apple Tentpole 7: Steve Jobs iAd presentation starts at 44:05 (for the why), with the iAd demo at 49:35 (for 3 great examples).
So it seems like Apple iAd uses HTML5 for animation, interactivity, and possibly videos.
HTML5 vs. Adobe Flash
Apple's new mobile advertising, based on HTML5, removes another main perceived use for flash.
Flash is a proprietary software controlled and sold by Adobe. The browser plugin, with all kinds of security, stability, and performance problems, was popularized due former support by the Microsoft monopoly. However, Microsoft is now pushing for its own incompatible Flash knockoff named Silverlight instead of Adobe Flash and including IE9 HTML5 support, while number of companies have moved on to next generation web standards.
Main perceived use for flash
- Video: Alternatives served by Google YouTube, Vimeo, others
- Interactive content, games: Alternatives include Mobile Apps or HTML5 website
- Interactive advertising: Alternative HTML5 based iAd
So looks like the buggy Flash plugin, otherwise known as the floppy of the internet age, might meet its demise soon than later. All the major perceived use for Flash, including advertising, are now covered using modern technology.
Apple iAd uses HTML5, the open web standard by the World Wide Web Consortium (W3C) that doesn't require purchasing Adobe software to create.

Related Posts