iPad: What is Motion-JPEG AVI Support?
Apple iPad supports Motion JPEG (M-JPEG) AVI up to 35 Mbps, but what is it?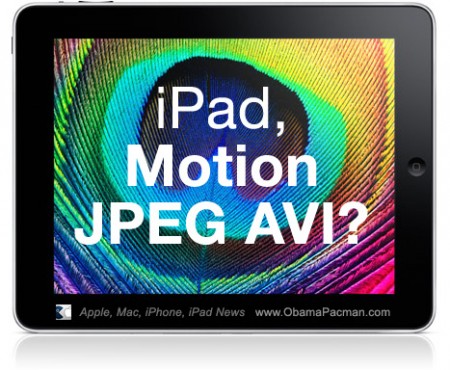 Back when iPad was introduced, Motion JPEG support was not part of the specs (third image, composite). In February, Apple added Motion-JPEG AVI video support to the iPad specs page, without fanfare. So what is it?
Motion-JPEG AVI is a video format popular with consumer digital cameras. Various consumer digital cameras shoot video in that format. Even some d-SLR such as Nikon D90 shoots Motion-JPEG (anyone tested it with iPad?)
New iPad TV and video support (image composite):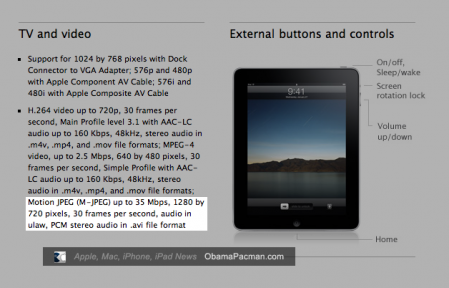 Apple iPad supports HD 720P Motion JPEG (M-JPEG) up to 35 Mbps, 1280 by 720 pixels, 30 frames per second, audio in ulaw, PCM stereo audio in .avi file format. Check your camera specs to see what format video it shoots and whether it'll be supported.
Use the Apple iPad Camera Connection Kit to transfer your videos (and photos) to transfer Motion-JPEG avi or supported MP4 videos to iPad Photo App. You can sync the original video to your computer later without losing quality.

Related Posts