Apple iPad Camera Connection Kit, First Look Video & FAQ
Wondering about iPad USB audio, USB keyboard, video import, file syncing, RAW support? Video, official features, and undocumented bonus features of the Apple accessory iPad Camera Connection Kit.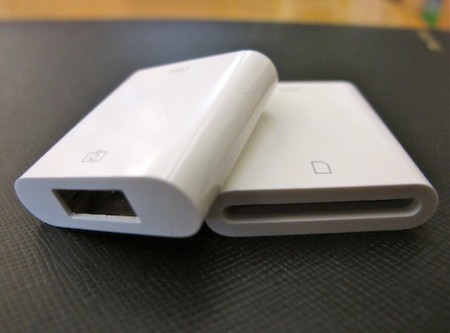 Video: Apple iPad Camera Connection Kit, First Look
The Apple iPad Camera Connection Kit, containing SD card reader and USB adapter, is designed to import photos and videos from a digital camera, but does it have any undocumented features? Yes!
Digital Audio Input Output, via iPad USB Adapter
Plug in USB headphones or a headset that works without driver on a Mac, and the iPad would have audio output / input via USB. Works great with Skype calls with USB headset. Tidbits reports.
OP Editor note: Apple iPhone headphone with microphone and remote control also works with iPad, no need to use USB adapter and USB headset if you just want to make VoIP calls with iPad.
USB Hard Drive Support?
USB hard drive was not accessible by the tidbit tester. Maybe he should try putting files in a camera folder, as mentioned below in the "Camera Video Import" section.
USB Keyboard, via Apple iPad Camera Connection Kit
USB keyboard can be connected to iPad and used to type, TUAW reports.
Note: iPad already works with wireless Bluetooth Keyboard or the Apple iPad Keyboard dock.
Camera Raw Files Support, iPad Photos App
The iPad Camera Connection Kit supports many type of standard photo formats, such as JPEG (JPG) and RAW files.
Apple currently does not provide a complete list of iPad supported image and movie format.
OP Editor speculates that camera RAW support might be similar to that of Apple iPhoto for OS X app, and that Apple might post a knowledge base article (such as that for iPad iWork Keynote App) soon.
iPhone Photo Import
iPad can import photos and videos from iPhone using the iPad Camera Connection Kit and iPhone USB dock cable. This is an Apple documented feature.
Camera Video Import
iPad is capable of importing limited types of camera-created videos. At this time HD videos from professional SLR don't seem to work.
Transfer Video to iPad Without iTunes
Users can transfer supported video formats, even iPad iPod capable mp4 videos, without iTunes. How? Put the supported photos / videos within a camera created folder, then iPad Photos App can import and view it.
iPad Photo Video Sync to Computer, Mac (& PC?)
Connect iPad directly to your Mac or PC (some USB hubs, such as that on non-Apple displays, might not support iPad due to its power requirements)
On Mac OS X, open iPhoto if that app doesn't automatically detect the iPad. (One cranky reviewer turned off his iPhoto auto-detection, and proceeded to falsely proclaim that there is no way to sync camera content from iPad to his computer. Um, open iPhoto!)
PC users might need to connect it to the back of their tower. At least one motherboard manufacturer, Gigabyte, is providing drivers to bring iPad charging, and we think that might improve compatibility with importing photos.
Email vs. Synced, iPad Full Sized File Support
iPhone email reduces pictures down to 800×600. iPad email reduces it to 2048×1536 (4:3 ratio) or 2048×1364 (3:2 ratio). Image reduction strips the EXIF data, iLounge reports.
To send full size image with EXIF data through email, copy and paste the photo into iPad iPhone mail. Syncing iPad photos to computer results in the full file with EXIF data.
iPad can import and edit some video files from cameras. There seem to be a video cap: in a test, an exported video becomes a 54-second 5MB 480×360 H.264 starting from a 3 minute 244MB 640×480 file.
Availability: Apple iPad Camera Connection Kit
Apple retail stores currently don't have the iPad Camera Connection Kit in stock yet. They don't have an expected date either.
CF Card, Speculations
Judging from the fact that USB audio works, OP Editor speculate that iPad could read CompactFlash (CF) cards through a USB card reader.
[via research by OP Editor, macrumors, photo tidbits]

Related Posts