Apple Highlights iPad Ready Next Generation HTML5 Websites
Apple adds a new page to show off iPad ready websites with HTML5 support.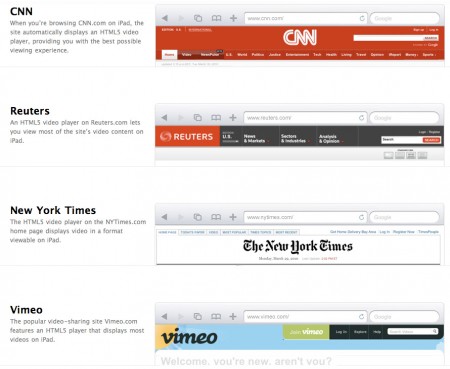 Since the introduction of the iPad only slightly over 2 months ago, a number of high profile sites either dropped Flash or added HTML5 support to their web site. Some of these multi-national businesses, including major news, entertainment outlets, are highlighted by Apple's new page on iPad ready sites. The list includes:
CNN, Reuters, New York Times, Vimeo, Time, Major League Baseball, The White House, Virgin America, Sports Illustrated, Flickr, People Magazine, and TED.
HTML5: Apple Mobile Safari Leading the Way
Apple's mobile Safari web browser in iPhone, iPod touch, and iPad tablet is the first browser with full support for W3C next generation web standard html5. Mobile Safari was the first browser to receive high marks on the ACID3 test.
via
ipad ready [apple]

Related Posts