Apple Confirms iPad First Day Sales: Over 300,000
Sales of the new Apple tablet are off to a great start. Today Apple announced that the first day iPad sales US are over 300,000. Short analysis.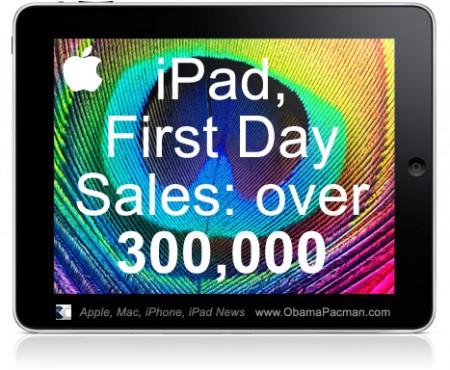 iPad First Day Sales Numbers, Stats
For those wondering about how many iPad are sold on the first day, Saturday April 3, 2010:
Over 300,000 iPads sold in US
Over 1 million apps from Apple's App Store downloaded
Over 250,000 ebooks were downloaded
The sales include deliveries of pre-ordered iPads, deliveries to channel partners, and sales at Apple Retail Stores in the U.S.
Apple CEO Steve Jobs on iPad Sales:
"It feels great to have the iPad launched into the world—it's going to be a game changer," said Steve Jobs, Apple's CEO. "iPad users, on average, downloaded more than three apps and close to one book within hours of unpacking their new iPad."
iPad Demand is High, Higher Than Original iPhone
The original iPhone sales, with lots of enthusiastic fans lining up for hours or days, is estimated to have sold around 350,000 in its first WEEK.
Over the weekend, some said that the iPad tablet lines seem to be shorter than that for the iPhone, but the reason behind that is already explained in this article: Myth, Short iPad Queues Show Lack of Interest in Apple Tablet.
The official Apple first day iPad sales numbers confirms our explanation of the "shorter" iPad lines and earlier report: demand for iPad is higher than the original iPhone.
More iPad Sales to Come
There might be more good news to come. Mainly, the first day iPad sales do NOT include:
iPad WiFi + 3G sales, which will be available later this month in the US, with a number of people already pre-ordered
International iPad Sales. (On iPad international sales, Apple announced last month that: "iPad will be available in both Wi-Fi and Wi-Fi + 3G models in late April in Australia, Canada, France, Germany, Italy, Japan, Spain, Switzerland and the UK. International pricing will be announced in April. iPad will ship in additional countries later this year.")
Looks like the days of the ubiquitous tablets might be coming, Apple iPad style.

Related Posts