Steve Jobs Makes iPad God Joke
Apple CEO Steve Jobs: iPad, shipped on Saturday, we rested on Sunday.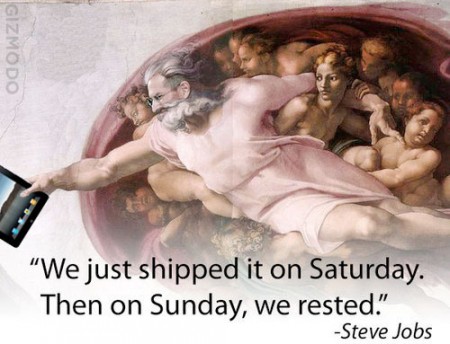 Steve Jobs makes God joke at iPhone OS 4 Kenote Q&A:
Q: Why have you veered away from widgets on the iPad? A: We just shipped it on Saturday. And then we rested on Sunday. Q: So widgets are possible? A: Everything is possible.
There are already plenty of Steve Jobs Godly photoshops, (and one more, Book of Jobs). So, come on, Steve, if you are going to joke about it anyway, then perhaps next Apple keynote just come out with a robe and white beard! It would be a keynote of biblical proportions!
via
Steve Jobs's Freudian God Joke [gizmodo]
Art: Gizmodo did a great photoshop of the famous painting by Michelangelo – The Creation of Adam (under #7)

Related Posts