Apple Adds: CBS, National Geographic, Nike, Spin to HTML5 enabled sites
More companies with newly HTML5 enabled websites join the Apple "Ready for iPad" list.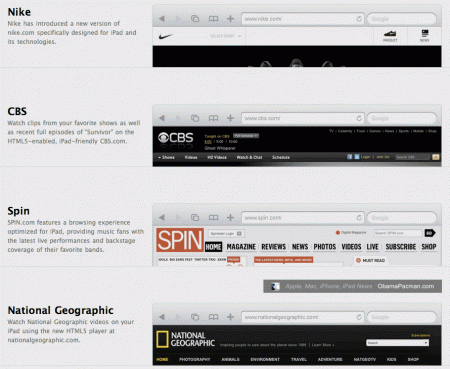 Recently Apple added a list of HTML5 enabled websites to the iPad page. Now Nike, CBS, Spin, and National Geographic join the ready for iPad list.
CBS on iPad
CBS, as reported earlier is the latest TV network to be moving forward with a HTML5 enabled website. Now it's official.
OP Editor discovers that the CBS web site is limited though. In some ways the CBS HTML5 web site better than the ABC iPad App (such as allowing fast forward or rewind), in other ways it needs improvement (there are a number of videos on sub pages which shows "not available for device" error). Keep in mind the iPad is only released about 1 week ago, so given time, there should be plenty of improvements coming.
via
Ready for ipad [apple]

Related Posts