100 Year Old Woman Got iPad, Thrilled, Composes Limerick Tribute to Apple tablet
Virginia is an 100 year old woman who buys iPad as her first computer. We know that Apple devices are intuitive, but this video tops the list.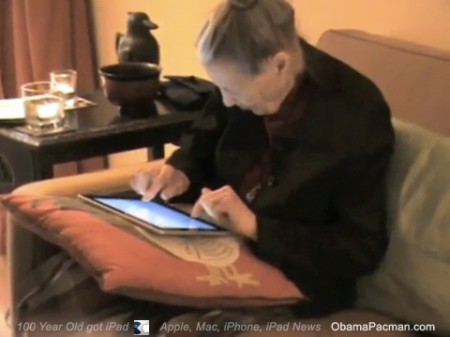 Video: 100 Year Old Woman Buys iPad, Thrilled, Writes Limerick
"100 year old woman with impaired vision is thrilled with her new toy" says the video description:
Looks like Virginia easily learns how to use her new Apple tablet. Using her iPad, she has read two books, and has composed 12 limericks (type of poem) in a few days!
Granny iPad Limerick
Virginia even wrote a tribute to iPad:
"To this technical-ninny it's clear
In my compromised 100th year,
That to read and to write
Are again within sight
Of this Apple iPad pioneer."
That's one cool granny!
Virginia's new iPad [youtube]
via 100 year old woman loves her iPad [macenstein]

Related Posts