Virgin America Airline Website Drops Adobe Flash For "More Fabulous" iPhone Friendly HTML
"We've slipped into something a little more fabulous." Last week, Virgin America Airline's new website went live, dumping Adobe Flash. Virgin America website's switched to HTML is another blow against the proprietary plugin made by Adobe.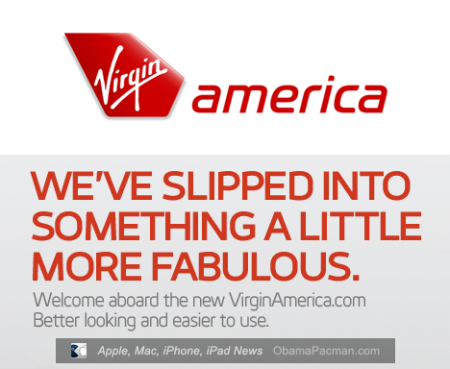 The move is a business decision to better cater to its traveling customers who use iPhone or other smartphones to access its website.
To Better Serve All Customers
Although Apple Mac OS X supports flash, Apple's hit iPhone OS platform (iPhone, iPod touch, and upcoming iPad) does not support flash for various reasons including performance and compatibility.
Some unknowledgeable pundits call lack of flash as crippled. However, currently, most smartphones either don't have flash support, or only have rudimentary support of Flash-Lite, an old (translate crippled) version of flash runtime. So, just like the iPhone (which pushes for standard HTML5), most phones cannot access recent flash content made in the past few years. Even for the devices that run full version of desktop flash, the fundamental design of flash makes it not suitable for touchscreen devices.
By replacing flash with W3C HTML5, Virgin America now allows full access of its website by every modern smartphone. The airline or its customers no longer need to wait for Adobe to port full version of flash to mobiles.
Flash Performance Problems
U.K.'s The Register reports Virgin America Airline's Chief information officer (CTO) Ravi Simhambhatla on flash: "the software was 'too heavy' to load, consuming more than 40 per cent of the end-users' CPU to load and run a page – bad news in the era of high expectations and short attention spans. Nobody could say with any certainty why Flash was so slow."
Not only does running HTML5 provides close to universal compatibility for customer access, it also solves flash-caused performance issues faced by many customers.
More Companies with Non-Flash Options
Besides the latest removal of proprietary flash on Virgin America, number of other companies support non-flash options:
Google's YouTube has offered non-flash MP4 video option since 2007 for the Apple iPhone, and has recently started the YouTube HTML5 video support. Another video service Vimeo also has non-flash video support with Vimeo HTML5.
Most of Google's other popular WebApps such as gmail don't use Flash.
Perhaps the most prominent Fortune 500 company that runs without Flash is Apple. Apple's HTML5 website shows that a business worth over $200 billion dollars can thrive without using flash.
Conclusion
Virgin America website has removed Flash from almost all parts of its website and replaced them with Web 2.0 menus and animations. Full HTML5 adoption is expected once the standard is approved.
The high tech Virgin America Airline is rated by Zagat as the number one airline of 2009 for both Midsize Domestic Premium Class and Midsize Domestic Economy Class. So looks like they might know a thing or two about customer service.
Dropping flash from its website actually allows better compatibility and solves performance problems. The result is broader accessibility, allowing Virgin America Airline to reach more customers, which means it's good for business.
Reference:
Virgin America site drops Flash to court iPhone [macnn]
Virgin America Removes Flash Content Due to iPhone Support [modmyi]
Update: First sentence added in conclusion.

Related Posts