Tip: Video Players for 1080p HD MKV Playback on Mac OS X
There are various ways to play HD videos in Mac OS X. Typically, MP4 1080p video plays fine in Apple Quicktime on modern Macs. But how about the odd formats such as MKV? Ever had jerky video or video stutter from playing videos with unusual bit rates? Then you need this guide.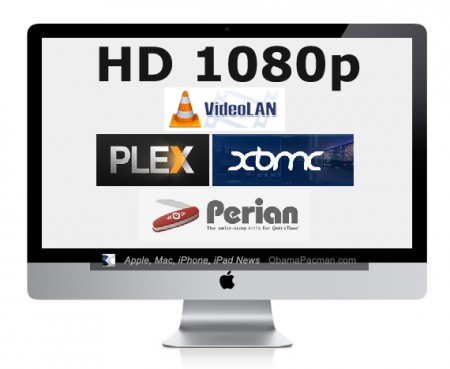 There are various ways to play HD videos in Mac OS X. Note Intel Macs or high end PPC Mac with G5 are required for HD videos (PowerBook has G4).
VLC, 1080P Mac MKV Video Playback


VLC Player is a popular video player. Works great for quickly playing various video and audio formats such as MPEG, AVI, WMV, MP4, MKV, OGG, Flac, & FLV.
Problem is, the default VLC settings might not work well for some people when it comes to 1080p HD MKV videos. But there is an easy fix to fix jerky HD videos or video stutter in VLC.
Go to VLC Preferences, select "Advanced" and change the "Skip the loop filter" to All: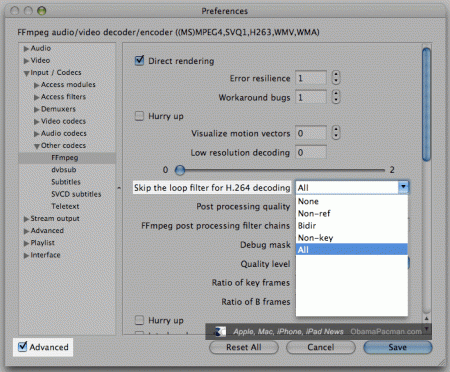 You can also try one of the other settings such as "Non-ref" or "Non-key" if you got a fast Mac.
Perian (Quicktime Plugin)

Perian is a QuickTime Player 7 plugin that can play various videos and HD videos in Mac OS X, such as AVI, DIVX, FLV, MKV, GVI, VP6, and VFW.
Note: Certain old versions of Perian might interfere with iChat. So if you experience problems with iChat or something that uses QuickTime after installing Perian, you can uninstall it from System Preferences.
Perian for Snow Leopard
Snow Leopard comes default with the new Quicktime X which has no backward compatibility with Quicktime 7 Plugins. Thus, you might need to install Quicktime 7 from the Snow Leopard disk. QT7 is installed in Utilities folder.
If you double-click any media that requires QuickTime Player 7 for playback and it is not already installed, you will be asked if you want to download it from Apple.
Mac HTPC Media Player Apps: Plex, XBMC, Boxee
Plex, XBMC, & Boxee are Mac media center apps similar to Apple's built in Front Row. People often use a Mac Mini as a HTPC (home theater PC) with either Apple FrontRow, Plex, XBMC, or Boxee, as those apps are designed to be used with a remote control instead of a mouse.
Plex is for intel Mac OS X 10.5 and up: Leopard and Snow Leopard
XBMC is for OS X 10.4 and up: Tiger, Leopard, and Snow Leopard
Boxee is for OS X 10.4 and up: Tiger, Leopard, and Snow Leopard
Downloads: Mac HD Video Player
Best of all, they are all free.
VLC [videolan]
Perian [perian]
Snow Leopard QuickTime Player 7 Install [apple]
Plex [plexapp]
XBMC [xbmc]
Boxee [boxee]
Reference, VLC 1080p Setting
1080p MKV playback on Mac OS X (VLC) [chipmunkninja]

Related Posts