Sophisticated "Mission Impossible" Heist of 20 Apple Laptops
How badly do you want Apple computers? Apparently badly enough that a group of thieves planned a Mission Impossible style heist, hanging from the ceiling, bypassing sensors, and made off with 20 Apple computers.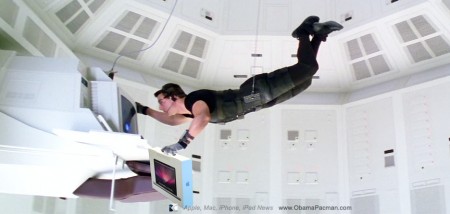 This Mission Impossible style heist happened yesterday morning at a Best Buy in South Brunswick, New Jersey. The acrobatic thieves avoided cameras, motion sensors, and alarms… Sounds like Ethan Hunt / Tom Cruise is out of a job?
The Mac heist has a "High level of sophistication," said Detective James Ryan, a police department spokesman. "They never set off any motion sensors. They never touched the floor. They rappelled in and rappelled out."
The New Jersey Mac thieves climbed to the roof using a gas pipe, cut a 3-foot-wide hole in the metal roof, then dropped down 16 feet on ropes, avoiding touching the floor which are connected to sensors.
There is no security video, as the view of the security cameras were blocked by banners.
The sophisticated bandits made off with 20 Apple notebook computers, some $26,000 in value, without being detected. Microsoft Windows PCs were untouched.
In November 2009, about $3 million worth of Apple iPhone were stolen in Belgium from a transport company warehouse in a similar heist where the burglars cut a hole in a roof and stole about 3,000 to 4,000 iPhones. Serial numbers of those stolen iPhones were blocked so they can't be used on certain networks.
Video, Mission Impossible Inspired Apple iPhone 3Gs Ad: Break In
Maybe this is what would happen if the bandits try it at the Apple Store:

via
"Mission Impossible" Thieves Steal 20 Apple Computers [cultofmac]

Related Posts