Round 2: iPhone Still Wins Touch Screen Accuracy Tests Against Droid, Nexus One, Blackberry (Robot Tested)
Moto Labs: "All touchscreens are not created equal." The original DIY touch screen accuracy test, though obviously reproducible by anyone, was said by some to be biased due to possible human error. This time Moto Labs took humans out of the equation. And guess what? Apple iPhone still wins.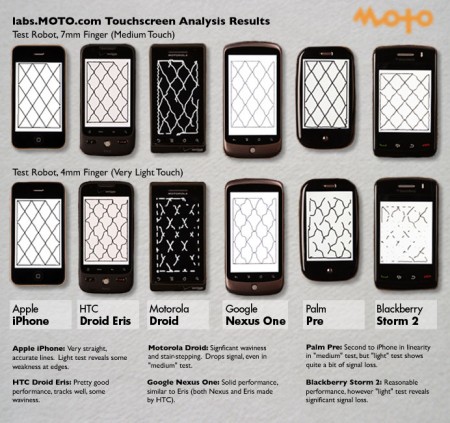 Moto Labs programmed a robot to repeat the DIY touch screen accuracy test, comparing Apple iPhone, HTC Droid Eris, Motorola Droid, Google Nexus One, Palm Pre, and Blackberry Storm 2.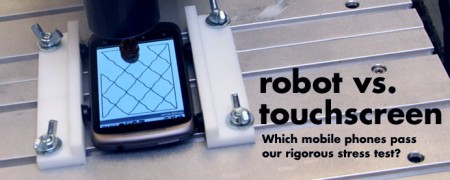 Apple iPhone still wins:
Apple iPhone touchscreen produces very straight, accurate lines, even with light touches.
Motorola Droid touchscreen produces significant waviness and stair-stepping, drops signal even at regular touch inputs. HTC Google Nexus One produces wavy input under light touches.
Various phones drop inputs at light touch (using edge of a finger), while the iPhone produces the best results under those conditions too.
Video: Round 2: Robot Tested, iPhone Still Wins Touch Screen Accuracy Test
Previous human toucscreen accuracy test vs. new robot test. iPhone shows even better result: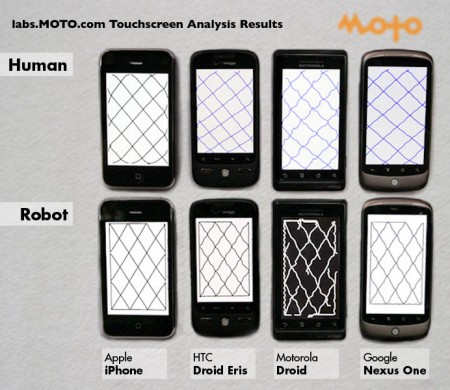 Touch screen accuracy depends not only of hardware, but also on software. It is expected that Apple will use the same market-leading touchscreen hardware and software used in the iPhone in the Apple iPad tablet.
Side note, looks like Moto might have read OP. Moto Lab's previous test result image did not include their logo. OP Editor added their logo on the upper right for the diy touchscreen test article. This time their test result includes their logo in the exact place on the upper right!
Robot Touchscreen Analysis [labs.moto]
via iPhone tops, Droid worst in touchscreen test [macnn]

Related Posts