Over 30,000 Free eBooks Available For Apple iPad
Apple iPad tablet uses the open ePub format for its iBookStore. That means, just like Apple iTunes and iPod can play various non-DRM audio / video files including MP3 & the MP4 (AAC, newer version of MP3), the iPad iBooks App will be able to use free books, such as that from Project Gutenberg.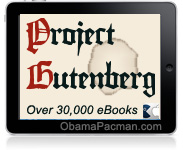 Project Gutenberg contains all of the classic books that are out of copyright, with over 30,000 eBooks in the collection. There are also a few copyrighted texts that Project Gutenberg distributes with permission.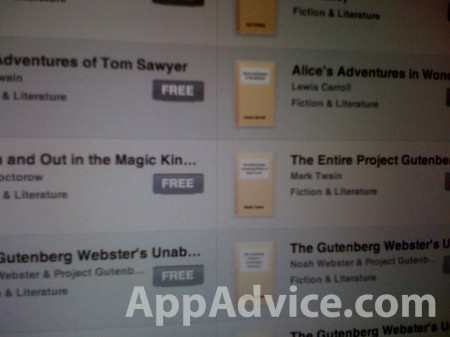 Literary works include novels, poetry, short stories, drama, cookbooks, reference works, issues of periodicals. Mostly in English but "significant numbers" of works are available in other languages.
AppAdvice reports that a preview of the iBookstore shows Apple already includes many if not all of the eBooks from Project Gutenberg, making it easy for iPad eBook readers to access such works such as:
Alice's Adventures in Wonderland, by Lewis Carroll
The Adventures of Tom Sawyer, by Mark Twain
The Adventures of Sherlock Holmes, by Sir Arthur Conan Doyle
Dracula, by Bram Stoker
War and Peace, by Leo Tolstoy
A Tale of Two Cities, by Charles Dickens
The Iliad, by Homer
Relativity: The Special and General Theory, by Albert Einstein
Considering Apple iPad does so much more than plain eBook readers at the same price, and that many eBook readers such as Amazon Kindle does not support the EPUB ebook standard, choosing an iPad will be an easy decision for those looking into a eBook reader.
iPad iBooks Features The Gutenberg Project Catalog – 30,000 Free eBooks [appadvice]
via Project Gutenberg Is Coming to Apple's iPad iBookstore [cultofmac]

Related Posts