Novell Demos Technology to Port XBox 360 Games to Apple iPhone iPad
Thinking Windows Phone 7 will be the only phone with XBox games that are unoptimized-for-mobile? Novell this week demoed that it's possible to port XBox 360 games to Apple's iPhone OS.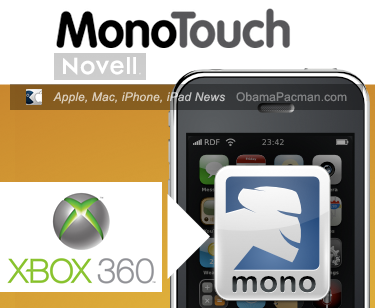 Windows Mobile Phone 7 is still in the vaporware / prototype status (as in everything subject to change and water down), with no specs, no defined features, no actual launch date, and no pricing. But Microsoft fans hope a killer feature for the currently vaporware WiMP device is XBox games.
Well, looks like XBox 360 games might be coming to the Apple iPhone before Microsoft WiMP 7 becomes an actual product.
XBox and .NET Games for iPhone, iPod touch, iPad
Games for XBox and Windows Phone are built using Microsoft's XNA Game Studio based on the .NET framework. Novell's new MonoTouch [monotouch.net] technology will support XNA, in addition to .NET and C#. That means developers will be able to translate those applications into native code for the Apple iPhone, iPod touch, and iPad.
Novell demoed an iPhone app, a version of an Indiana Jones game which Microsoft also demoed running on Windows, Windows Phone and Xbox.
Microsoft Supported
Surprisingly, Microsoft supports the Mono effort.
Why? To prevent developer migration (and to keep collecting the Microsoft licensing tax).
Apple's App Store already has the business over 95% of the billion dollar mobile-app market, so many developers are leaving the Windows mobile environment to develop for iPhone. Some developers are also moving to the unproven Android market where most users don't want to pay for software. In contrast, there is little interest in developing for Microsoft Windows Mobile, as Microsoft keep screwing its developers by abandoning year old software and devices.
Additionally, developing on Microsoft platform has the hidden cost of high annual licensing fees. XNA Game Studio requires Visual Studio. It's unknown whether XNA has additional costs, but currently, without including physical cost of PCs and support cost of Windows, Microsoft Visual Studio can cost up to $10,939 for 1 new license for the first year.
Novell Ports for Android
The Android version of Novell software is still in its early development process, but some publications make it sound like it a finished product. However, it does seem likely that Novell will finish its software before Microsoft finishes WiMP 7.
PC World: "Who wants to wager that Novell will bring Xbox games to Android before Microsoft finishes Windows Phone 7?"
Of course, don't expect every game to be ported, as console games are not typically not designed for touch screen devices.
Xbox 360 Games on iPhone? Sure — But Not From Microsoft [pcworld]
via Novell shows way to port Xbox 360 games to iPhone, Android [macnn]

Related Posts