Myth: Copyright Theft, Apple Stole GUI from Xerox PARC Alto
So, Apple stole the now ubiquitous graphical user interface (GUI) from Xerox Palo Alto Research Center (PARC)? Some people think so. But is it truth or fiction?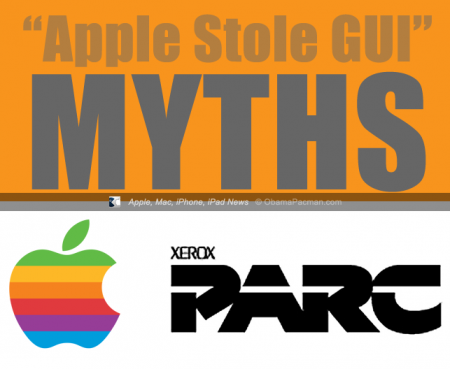 Myth: Apple Stole GUI from Xerox PARC Alto computer
Whenever Apple tries to protect its intellectual property (this week Apple sued HTC for patent infringement of patented iPhone technology), there will be few people who parrot some variation of this myth: "Apple stole the GUI from PARC / Xerox."
The "Apple stole the GUI" myths contain these components:
Theft of intellectual property by Apple
Implied plagiarism by Apple of the code and overall functionality of Xerox PARC GUI for the Macintosh
Is it a case of "Good Artists Borrow, Great Artists Steal?"
Did Apple Use Xerox PARC GUI Intellectual Property Without Permission?
Myth:
Apple CEO Steve Jobs saw Xerox PARC product, such as the GUI, either on a tour or at a trade show. He then used the PARC GUI implementation without permission, to create the Apple Lisa and the original Mac OS / Macintosh GUI.

Fact:
Apple obtained permission ahead of the Xerox PARC visit. In addition, Apple provided compensation in exchange for the various Xerox PARC ideas such as the GUI.
The Motley Fool, a financial publication of investment news and provider of investment advisory services, says this about the real story of Apple and PARC:
"Xerox could have owned the PC revolution, but instead it sat on the technology for years. Then, in exchange for the opportunity to invest in a hot new pre-IPO start-up called "Apple," the Xerox PARC commandos were forced — under protest — to give Apple's engineers a tour and a demonstration of their work. The result was the Apple Macintosh, which Microsoft later copied to create Windows." [1]
Xerox Received Financial Compensation from Apple
The compensation for the Xerox PARC technology sharing deal with Apple was in the form of one million dollars of pre-IPO Apple stock. The rationale: if Apple does well, Xerox will benefit from Apple's success. The compensation is not bad for showing some prototypes that Xerox didn't know what to do with.
"November: Steve Jobs and software engineer Bill Atkinson visit the Xerox PARC lab in Palo Alto, California. More Apple employees will visit a month later." [2]
"Jobs and several Apple employees including Jef Raskin visited Xerox PARC in December 1979 to see the Xerox Alto. Xerox granted Apple engineers three days of access to the PARC facilities in return for the option to buy 100,000 shares of Apple at the pre-IPO price of $10 a share." [3]
Continue reading using the navigation elements on top or on the bottom of the page…

Related Posts