Must See for Art Lovers: "70 Million" music video by L'Ogre Mac Creatives

Hold Your Horses "70 Million" music video is an amazing production consisting of classic art / painting recreations.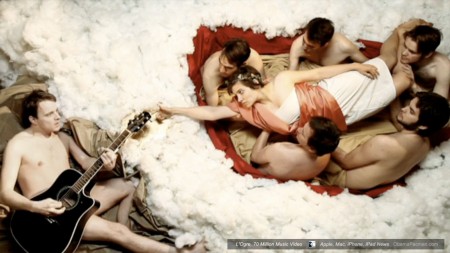 This classic art inspired / spoof music video of Paris's polyphonic pop group Holds Your Horses is produced by L'Ogre. It consists of over two dozen important works from history of arts, classic paintings from Di Vinci to Van Gogh, plus even non-painting mediums such as Marilyn Monroe pop art from Andy Warhol.
Music Video: Art Inspired Parisian Holds Your Horses "70 Million"

http://vimeo.com/9752986 [vimeo] Audio single: 70 Million [iTunes link, U.S.]
Behind the Scenes of 70 Million Music Video with L'Ogre
With such awesomeness, of course Apple computers play a role. OP got in touch with Catherine Villeminot from L'Ogre, who said for the production, they edited the music video using Final Cut Pro on a Mac.
OP Editor: How long did it took to produce the video?
A: We had two weeks to prepare the shoot and then we shot it in 4 days. (2 x 2 week ends.).
OP Editor: I see you mentioned David Freymond directed, but who wrote the script?
A: The video was a collaborative effort of the four creators of L'Ogre (David Freymond, Bruno Mendes, Olivier Tixier and myself Catherine Villeminot)
Wow, only took 4 days to film the video. That's a pretty impressive feat.
Holds Your Horses [myspace] produced by L'Ogre [logre.tv]
via Name That Painting [buzzfeed]
Detail Description of Paintings & Art from Holds Your Horses "70 Million" Scenes
Wait, that's not all. We have a list of all the paintings from the music video!
From Leonardo da Vinci, Rembrandt, Michelangelo, Pablo Picasso, Edvard Munch, Vincent van Gogh, Edouard Manet, and more on the following pages.
Continue reading using the navigation elements on top or on the bottom of the page…

Related Posts