Microsoft Internet Explorer 9 web browser Follows Apple & Google's HTML5 Lead
With the Apple vs. Flash debate and whether HTML5 is a replacement for Adobe Flash, some pundits claimed HTML5 would never gain real adoption. Here is another reason why the anything-but-Apple, anti-innovation FUD-sters are wrong: even Microsoft's I.E. browser started to offer HTML5 support.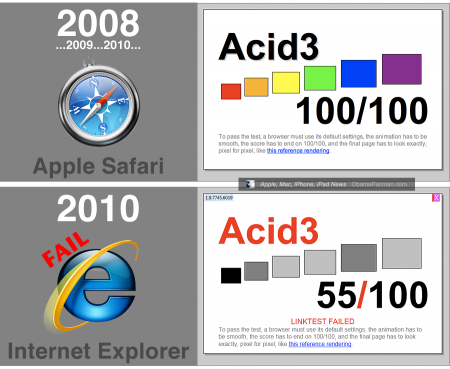 This week, Microsoft demos its Internet Explorer 9.0 "preview" (public beta) that prominently lists HTML5 support. IE9 will also support H.264 HTML5 video.
Microsoft: HTML5 = "Next generation of Web Standards"
Surprise, surprise. Microsoft follows Apple's footsteps again, year(s) behind, just as the Redmond Dilbert design committee had predicted. This time, Microsoft attempts to copy the web standard compliance of Apple Safari browser.
The MS Internet Explorer browser, well known for security problems and non-compliance to World Wide Web W3C standards, is finally gaining HTML5 support with IE 9.
Microsoft even mentions HTML5 support will allow "Deliver rich interoperability with the next generation of Web standards."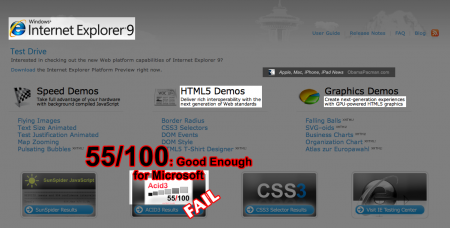 Acid3 Test: IE9 55/100, Safari 100/100, Google Chrome 100/100
One of the ways to test for browser web standard compliance is the Acid3 test.
The newest preview version of the MS IE9 only scored 55/100, failing the web standard compliance test. IE9's fail score is still an improvement over Internet Explorer 8.0, which fails the Acid3 with score of 20/100.
Apple Safari web browser scored 100/100 for over a year now; counting Safari beta, the Apple browser has achieved 100/100 score for about 18 months.
Google Chrome browser has also achieved 100/100 Acid3 score.
Microsoft, Leader of Technology Innovations?
Microsoft: yesterday's technology implementation, tomorrow!
Again, Microsoft seems to be at the forefront of technology (not!):
2008 September, Safari developer release passes Acid3 Test 100/100
2009 Feb, Apple releases Safari public beta, Acid3 100/100
2009 June, Apple releases Safari Web Browser, Acid3 100/100
2010 March, Microsoft IE 9 public beta with HTML5 support, Acid3 55/100
It's unknown when IE will achieve 100/100 web standard compliance, but there is always sometime in the future. Or, instead of waiting and waiting for Microsoft to play catch up, IE users can use a better alternative browser. Many already do.
Mobile Browser HTML5 Web Standard Compliance
Current Windows Mobile Phones (WiMP) that are being sold are based on the antiquated Windows CE "platform." The Microsoft CE WiMPs use Internet Explorer Mobile 6, which fails Acid3 test with a pathetic score of 5/100.
Just like the desktop Safari web-standard-compliance, Apple's Mobile Safari browser, used for iPhone, iPod touch, and upcoming iPad tablet, is the most standard compliant browser on smartphones, beating web browsers from Google Android, Nokia, Palm webOS, Microsoft Windows CE, & RIM BlackBerry.
Push For HTML5
With tech titans Apple and Google pushing HTML5, even Microsoft cannot deny that the web is moving to HTML5.
Apple is the largest business that does not use the proprietary Adobe flash plugin on its website, conducts billions of dollars of transaction on Apple.com with HTML5.
Google is also a huge HTML5 proponent. The Google search engine is HTML5, Google video service YouTube has HTML5 video option, and most popular Google web apps such as gmail are based in HTML5.
Video service Vimeo also has HTML5 video option.
Virgin America Airline also has built their new website based on HTML5 to better cater to iPhone and HTML5 compliant smartphones.
Even Microsoft agrees: "HTML5 is the Next generation of Web Standards." There is no mention of flash or silverlight on the IE page as a web standard.
Microsoft Internet Explorer Download Options
For those running Windows, what are the options to still not fully standard compliant Microsoft IE? Here are popular browsers available for both Windows and Mac OS X:
Apple Safari [download] Acid3 100/100
Google Chrome [download] Acid3 100/100
Mozilla Firefox [download] Acid3 97/100 (version 3.7a2)
For those stuck with IT-locked-downed IE browser, to improve HTML5 support, you can download Internet Explorer plugin: Google Chrome Frame [download]
If you still want to try out IE9 public beta, Google: IE 9 testdrive

Related Posts