Live: Apple Store iPad Pre-Order for Delivery / Reserve and Pick Up
Apple's new iPad tablet is almost here. Apple Store went down and re-opened on 8:30AM this morning, as reported. We also got you additional details from Apple Store on iPad pre-order & delivery, plus reserve & pickup times.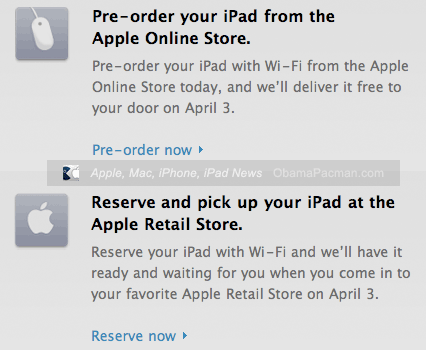 WiFi iPad
Pre-Order:
Delivery on Saturday, April 3
If Saturday delivery not available in the area, then delivery on Monday.
Reserve:
Pickup Date and Time
April 3 from 9 a.m. to 3 p.m.
WiFi + 3G iPad
U.S. customers can pre-order for delivery late April.
How to Order or Reserve Apple iPad
Go to the iPad details [apple] page, click pre-order, then choose either Pre-Order or Reserve.
Here's our reservation of 64GB iPad WiFi for pickup at Reston Apple Store, reserved your yet?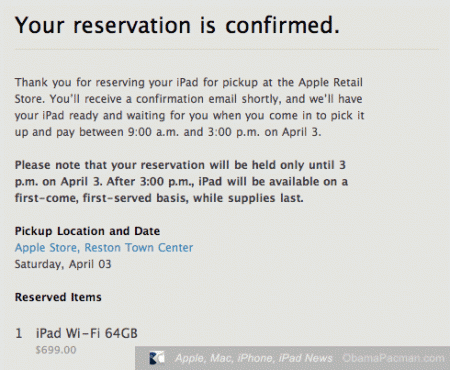 Tablet Slate PC Vaporware
On the other note, instead of a tangible product with a real demo, expect vaporware, containing no specs, no price, and no exact release date from a certain company (cough cough Microsoft) in the coming weeks.

Related Posts