iPad Official Accessories Part 2: Missing & Newly Confirmed
In January OP has covered the prices of the new 6 official iPad specific accessories for the Apple tablet. Today we got more details from Apple Store, including the seemingly missing sixth iPad accessory.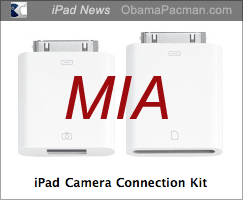 Elusive Sixth iPad Accessory: Camera Connection Kit
Five of the six new iPad accessories can be pre-ordered. However, something is missing and seems to be as elusive as the "leaked" iPad in elevator photo.
Although it's on the Apple non-store iPad pages, iPad Camera Connection Kit seems to be missing from the Apple Store. Instead, the order page has various substitutes such as Apple Wireless Keyboard as the sixth iPad accessory.
It's not like we're care that much (if we do a photo shoot, we'll bring a 17″ MacBook Pro). But it seems odd to forget 1 out of 6 iPad accessories. Please keep in mind, does Amazon Kindle has one planned? No. How about the Barnes and Nobel Nook? No.
Apple Store: iPad pre-order page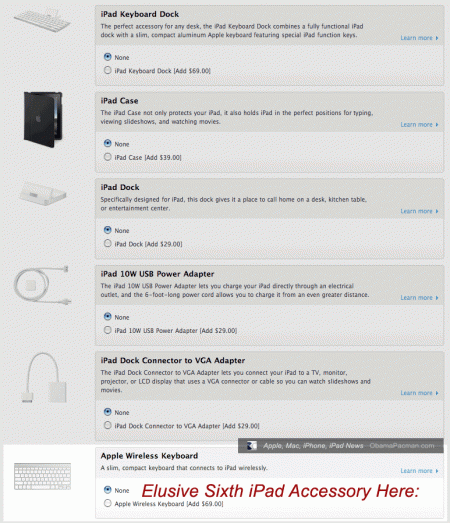 Apple Store: iPad accessories main page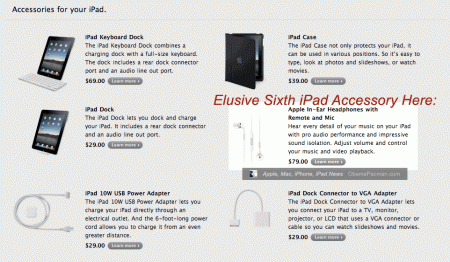 Apple Store: iPad accessories page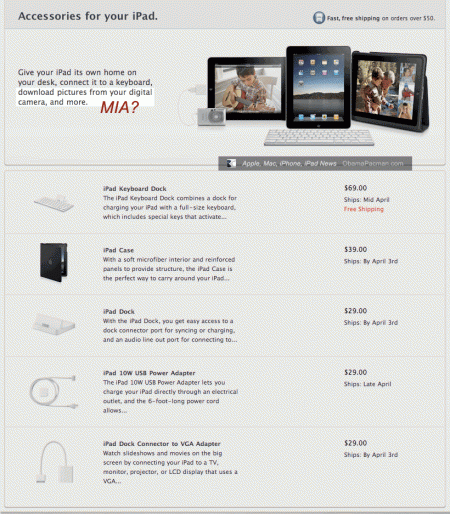 Newly Confirmed: Apple Wireless Bluetooth Keyboard Works with iPad tablet
There have been mentions of Apple wireless keyboard working with iPad through Bluetooth. But there were no official confirmation until now:

That means existing iPhone and iPod touch are very likely to get a bluetooth keyboard update, either from Apple or through third party jailbreaking.
iPad Compatibility with Apple Headphones with Remote and Mic
The original Apple iPad specs page lists only headphone jack for iPad.
Apple confirms compatibility of iPad with Apple Headphones with Remote and Mic. That's good news for those who already got the iPhone headphones. It can be used to control the iPad, that means iPad probably has the 4 prong headphone connector just like the latest iPhone and iPod touch.
The more expensive version is listed, but this iPad accessory uses the same connector as the standard Apple Headphones with Remote and Mic:


Apple iPad VoIP over 3G & WiFi
As mentioned earlier by OP Editor, iPad VoIP is expected to work on both 3G or WiFi. iPad has built in microphone, and will work with the Apple Headphones with Remote and Mic or third party accessories with industry standard 4 prong headphone connectors.
via
Apple Store [apple]

Related Posts