iBelieve: Apple iPod Art in Chicago Museum
Apple products, like works of fine art, are no stranger to museums. This latest find is an unusual concept accessory for the original iPod shuffle, on display at the Art Institute of Chicago.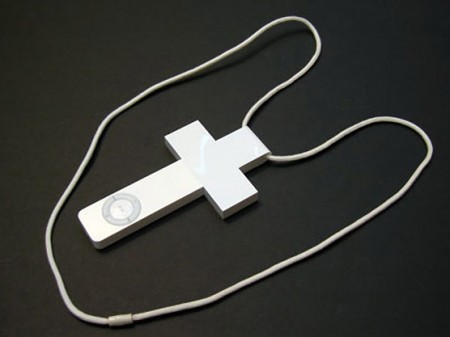 TUAW writer Michael Grothaus caught this cool Apple iPod art while he visited the Chicago museum.
Museum Exhibit: iBelieve Apple iPod Art, Homage, Satire
Great homage and spoof on the impact of Apple iPod on popular culture, iBelieve is a concept accessory made for the first generation white iPod shuffle. It's an iPod lanyard with an upside down T iPod cap. This "divine accessory" snaps on the iPod shuffle, and turns the iPod into a hip technology icon in the shape of a crucifix.

Funny spoof on what some perceive as the religion / cult of Mac. It didn't even require Banksy style method to sneak into museum displays, a la "Early Man Goes to Market."
"Inspired by the world's obsession with the iPod, iBelieve is a replacement cap and lanyard for your Shuffle. Now you can profess your devotion with a fashionable symbol of faith. Join the fastest growing religion on the planet."
This iPod art is made by Scott Wilson, originally unveiled under the pseudonym 'Devoted1." Scott Wilson is the Founder & Principal of an international multidisciplinary design studio MINIMAL (MNML). Their website also credits Mike Prstojevich for iBelieve.
Location, iBelieve, Museum Art
iBelieve is on display at Art Institute of Chicago, but where is it? Is it next to the Monet, Seurat, O'Keeffe, or Picasso?
OP got in touch with Michael Grothaus to find out. He wrote: "It was in the new Modern wing on the lower floor with a bunch of architectural stuff."
Photo with Steve Jobs?
Maybe we can get the holy Apple CEO Steve Jobs aka Mr. iPod, iPhone, iConquered to pose with it? Well, there's always photoshop.
via
iPod accessory turns up in fine art museum [tuaw]
First photo: First Looks [ilounge]
Creator: MINIMAL (flash site) [mnml]
Gallery, iBelieve: iPod obsession, Apple homage

Related Posts