Holy Sh*t, Just Got Leaked Mac OS X 10.7 Snow Cougar Prerelease From Apple
Just un-boxed our new Apple iMac when the Mac OS software update indicates that there are some new updates. I can't believe it but it seems to be downloading the prerelease version of next generation Mac OS X software! OMG!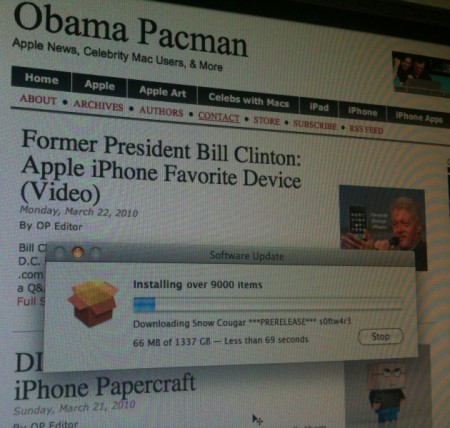 Must be the week of accidental Apple prerelease software leaks.
Only last week, Apple's 10.6.3 developer release built number was published on March 18.
On the next day, March 19, an image said to be internal built labeled **PRERELEASE** was published by tuaw. The story behind that image is quite unusual, as the update said to be obtained through software update from a brand new iMac purchased through retail:

The Apple-internal software builds with **PRERELEASE** label is said to be accessible only through Apple's VPN.
What a coincidence! We saw the 10.6.3 picture earlier but can't believe it. But now we got a rare prerelease from Apple too, so we are no longer skeptical of anything posted online.
Mac OS X 10.7 Snow Cougar
From the look of the Apple leak, the next major release of the Mac OS X software is named Snow Cougar. It's sized at 1337 GB, a hefty size containing over 9000 items, but will download almost instantly for those who pre-ordered the magical iPad.
But looks like there is a bug with the Mac software update. What exactly is s0ftw4r3? Confused… =p
And yes, there might be clues that photoshop has something to do with the Apple 10.7 Snow Cougar leak. Not saying the TUAW article is wrong but just that anything is possible, especially with Photoshop.

Related Posts