Former President Bill Clinton: Apple iPhone Favorite Device (Video)
Bill Clinton, former President of the United States, was in Washington D.C. last week at an event to celebrate the 25th anniversary of the .com internet domain name. Clinton gave the Keynote speech, and at a Q&A afterwards, reveals that the Apple iPhone is his favorite device!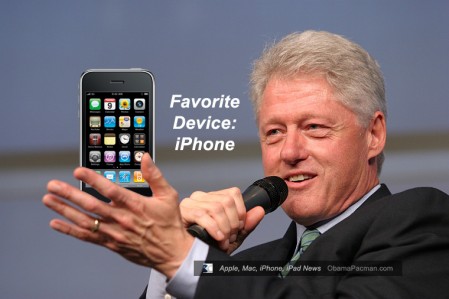 After his Keynote, former President Bill Clinton had a discussion with the VeriSign CEO Mark McLaughlin about various Web-related topics, including:
Q: 3 favorite web sites (about 5:00 video time)
Clinton: Work related… political ones such as Daily Beast and the Huffington Post… (And then some of his thoughts on the print industry).
Q: What's your favorite device? (about 7:50 video time)
Clinton: "My favorite device is the iPhone, because I can get so much stuff on it."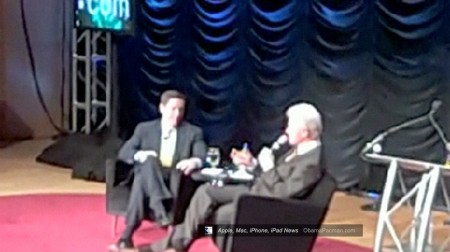 Of course, as with any discussion about the Internet, there is some mention of Al Gore. Clinton also mentions that he does not use Kindle eBook reader for reading books.
Video: Former U.S. President Bill Clinton: iPhone Favorite Device & Discussion on Web
The video is recorded by Kara Swisher at AllThingsD. Thanks!

(The Clinton Q&A video's sound controls are not intuitive. One is for mute / un-mute. The control on the right is for the audio volume — set it up to hear the audio.)
Clinton Describes Former President George H.W. Bush as BlackBerry Teen?
The AllThingsD article seems to have started an urban legend or two. To OP Editor, it shares some similarities to the Al Gore "invented the internet" urban legend.
1) Clinton "said he also has a BlackBerry."
The video did not show Clinton saying that. Full quote below.
2) Clinton Talks about "GOP's #41 Is a BlackBerry Teen." A few publications have picked it up and attributed Bill Clinton as calling former President George H.W. Bush, a "BlackBerry teen."
As much as we would "possibly" like to make fun of crackberry users, Clinton did not seemed to refer to BlackBerry and former President H.W. Bush in the same part of the sentence.
Bill Clinton BlackBerry Quote
Right after the iPhone "favorite device" comment, Bill Clinton says: "I try to stay off the BlackBerries all those things as much as possible because I am obsessive even in my old age, and so I tried to be very disciplined about when I do or do not start going after information, because George Bush the elder, he's constantly doing email, he might as well be a teenager in high school." (starts about 7 minute, 50 second video time)
BlackBerry and "all those things" are basically iPhone class devices. So as OP Editor reports, according to the video, there is mention by Bill Clinton comparing George H.W. Bush to a teenager, but no mention of Bush as "BlackBerry teen." Note that former President Clinton also made fun of himself in the same sentence.
Perhaps Clinton was trying to sound like a smart-phone bipartisan by mentioning RIM's BlackBerry right after he said that iPhone is his favorite device.
But the important thing is Clinton says "I try to stay off BlackBerry" but he did not say: I try to stay off the iPhone.
In truth, even OP Editor is trying to stay off the BlackBerries, by using iPhone exclusively.
via
President Clinton Talks About His Internet Legacy [kara.allthingsd]

Related Posts