Fake iPad (Counterfeit, Not Clone) Ready for Release?
Looks like Chinese counterfeit makers might have beat Microsoft / HP Slate at making a knockoff of the Apple iPad tablet.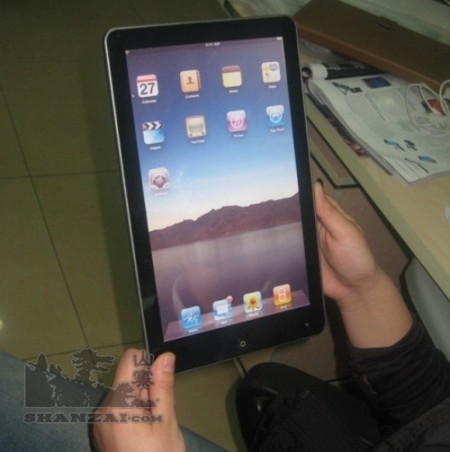 Shanzai reports the counterfeit iPad has 10″ screen, android, and ARM processor at 60% of speed of iPad. The display of the counterfeit iPad looks to be in widescreen format instead of business projector-friendly 1024×768 format used by the Apple iPad.
Yes, it's suppose to be cheap, except this report of fake iPad contains:
No measurements
No images or video of actual interface
No verbal report of how well the device works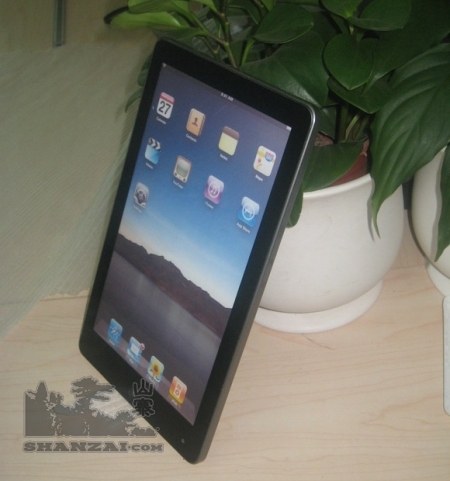 Thus, without further information or demo of device functionality it could just be a photoshop image or a product with a photoshop image.
In other words, it looks about as real as a papercraft iPad.
iPad Counterfeit =/= Clone
Even if the device is real, it's unlikely to work anything like Apple devices.
Many hot products get the counterfeit treatment. It has happened to various versions of Apple iPod and iPhone, the problem is, the counterfeit electronics are nowhere near the real thing in terms of usability.
Electronics knockoffs are known to use cheap parts and barely functional software to build he cheapest device that will fool the people looking for the bottom of the barrel devices. Knockoffs of iPhone are known to be unresponsive to touch, and slow to react to inputs because they spend minimal money in R&D to get things right.
Definition of "cloning": producing something genetically identical.
The knockoffs are nowhere close. The counterfeits do not use the same hardware, do not use Apple software, and the devices are not remotely compatible to running applications from the Apple App Store.
Thus calling iPad knockoff a "clone" shows a severe lack of technical knowledge.
Real Deal of iPad Knockoff: iPad Killer?
In a separate article, Shanzai calls the iPad knockoffs as "iPad killer." What a joke.
Even multi-billion dollar companies such as Google do not offer touch screen / software combination in 2010 that matches that of the 2007 Apple iPhone. Example, the $529 Google HTC Nexus One can't even get it right, so would a supposedly $100 or $150 "concept" device function anything like a real Apple device?
In conclusion. With potential of fake iPads, be careful when buying from eBay or shady stores. Order the iPad from Apple.com if you want the real thing.
First Glimpse of a Real Shanzhai iPad Clone [shanzai]
via iPad clone emerges running Android, custom UI [macnn]

Related Posts