Apple: Third Largest U.S. Company by Market Capitalization
Today, investors put their confidence behind Apple on this first day of iPad pre-orders. Apple ended the day with its highest market capitalization ever, edging slightly ahead of retail giant Walmart to become the third largest U.S. company in term of net worth.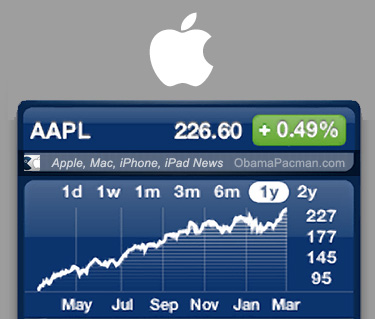 In after hours trading, Walmart stocks took a small loss while Apple stocks made a small gain. That means in term of market cap of U.S. companies, at the end of today, Apple is officially one spot behind Microsoft.
Largest 5 U.S. Companies by Market Capitalization, March 12, 2010
1. Exxon 315.38B
2. Microsoft 256.45B
3. Apple 205.57B
4. Walmart 205.37B
5. Berkshire Hathaway 203.20B
(Billions of U.S. Dollars)
Apple Decade of Success
Due to success of Apple in the competitive consumer electronics and mobile electronics industry, Apple's market capitalization has surpassed Dell, Nokia, & HP in recent years.
Related: 2000-2009: Decade of Apple Conquests (Even Against Microsoft)
With Microsoft's stagnant company value in the past decade, if Apple continues its previous decade of success, Apple's company value is expected to surpass Microsoft this very decade.
Google ended the day with market capitalization of 184.28B.
Due to the nature of the stock market,
via
Apple overtakes Walmart in market capitalization [macnn]

Related Posts