Apple Sadly Says Farewell to Board Member Jerry York
Today, Apple announced that Director Jerome B. (Jerry) York, a board member of Apple, passed away this week. In a Think Different fashion, Apple dedicates the whole front page of Apple.com to pay tribute.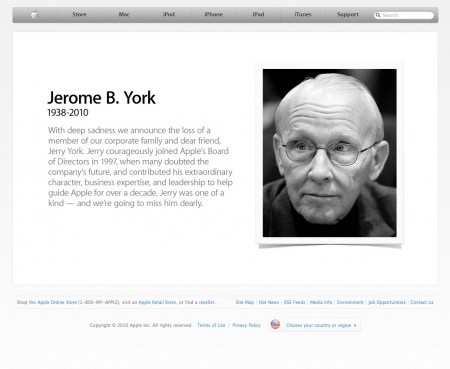 "Apple is sad to announce the death of Apple Board member Jerome B. (Jerry) York, chairman, president and CEO of Harwinton Capital." Apple remarked.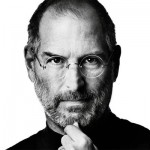 "Jerry joined Apple's Board in 1997 when most doubted the company's future. He has been a pillar of financial and business expertise and insight on our Board for over a dozen years," said Steve Jobs, Apple's CEO. "It's been a privilege to know and work with Jerry, and I'm going to miss him a lot."
At the end of 1997, Apple's stock was trading near $3 per share. Recently Apple stock has hit all time high of $227.73 per share. Apple also briefly became the 3rd largest business in the U.S.
Jerry York's life is a story of inspiration. He trained as an engineered but worked his way up through Chrystler to become CFO. York also worked as the CFO of IBM and vice chairman of investment firm Tracinda. York is widely acknowledged for his contributions at Chrysler and IBM during their turnarounds.
R.I.P. Jerry.
Apple home page and Apple Director Jerome B. York Passes Away [apple]
via Apple Director Jerome York Passes Away After Stroke [macrumors]

Related Posts