iPhone, iPad Gains Free Turn by Turn Navigation App with Voice Directions From MapQuest, Sans Google
Now, iPhone and iPad users can get functionality that typically requires an expensive GPS devices, for free from MapQuest. Google, the king of free adware, dropped the ball on this one.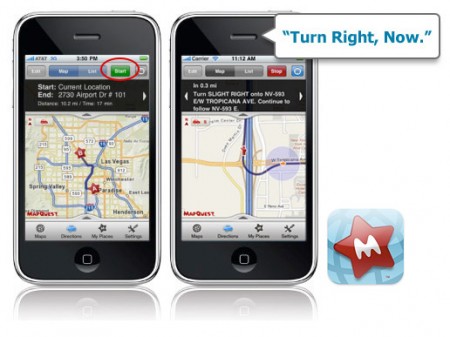 Recently, Google released a free turn by turn navigation app for its slow selling Nexus One, but not the Apple iPhone. Google has not announced any plans to allow its map data to be used for navigation apps on the iPhone.
Free iPhone Turn-by-Turn Voice Directions Navigation App
This week, MapQuest has announced that its free MapQuest 4 Mobile iPhone app [iTunes link], version 1.5.1, now offers navigation by turn by turn voice directions. Although the free app doesn't offer various map views offered by full featured apps, it includes overhead view of maps. The free iPhone app also offers re-routing if the driver misses a turn, although it requires touching a button to get new directions (now automatic).
MapQuest also has a paid navigation app, MapQuest Navigator [iTunes link] with even more functionality such as real time traffic data, and access to 3D maps. Update: no longer available, but the free version works great.
Of course, if you want to use this on iPad or iPod touch, then you need a mobile WiFi hotspot or iPad 3G with data access.
via [MapQuest]

Related Posts