Apple iPad Magical? Magic Unicorn Pad vs. Sufficiently Advanced Technology
Reasons for and against calling Apple iPad "Magical." A vote, and a petition.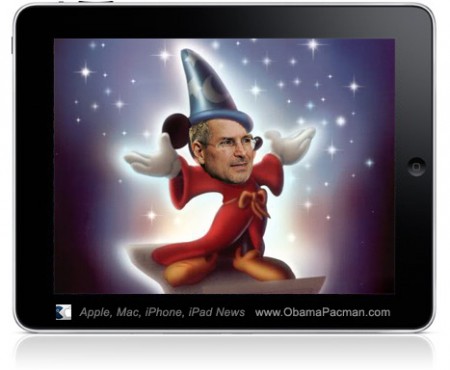 Apple CEO Steve Jobs in his 2010 iPad keynote, in addition to various Apple announcements, use the word magical to describe the new iPad Apple tablet. Is it a case of Steve Jobs hanging around Disney too much?
iPad: Magical and Revolutionary
The announcement of iPad available in April contains 2 mentions of magical (no, OP did not use magical there). Apparently Apple has used magical one time too many, as the Macenstein Doc just started a "iPad is NOT Magical" partition to "stop the madness."
Here's the straw that broke the Macenstein's Doc. Apple iPad April release announcement contains 2 mentions of iPad being "magical":
1: In the first sentence, Apple announced that "its magical and revolutionary iPad will be available…"
2: Quote from the Apple CEO: "iPad is something completely new," said Steve Jobs, Apple's CEO. "We're excited for customers to get their hands on this magical and revolutionary product and connect with their apps and content in a more intimate, intuitive and fun way than ever before."
Reasons Against "Magical iPad"
Why not? Macenstein: "Using the term 'magical' cheapens the iPad and makes Apple, a TECHNOLOGY company, rooted in science, look like a foolish snake oil salesman."
Well, on the first glance, even OP Editor thought it is unusual to use Magical to describe the iPad, as it conjures up the image of Harry Potter or the Magic Unicorn Pad™ (Trademarked by OP Editor =p).
But there might be some reasons for using Magical.
Reasons For "Magical iPad"
Clarke's Third Law: "Any sufficiently advanced technology is indistinguishable from magic." Profiles of the Future (1962)
Written by Arthur C. Clarke, English physicist & science fiction author, best known for authoring 2001: A Space Odyssey and his futuristic "predictions" of technology developments ahead of time.
Magical / Magic also has other associations beyond Walt Disney's 64 billion dollar empire that includes the Magic Kingdom.
Lucasfilm: Industrial Light & Magic (For a few years, the group that eventually became the hugely successful Pixar was a part of Industrial Light & Magic)
Some people who used it have said the iPad works so well it's like magic.
iPad Magical or Not?
What do you think?
Vote
Do you think iPad could be described as magical, iPad should not be described as magical, or it's better to wait until its actual release? Use the sidebar to cast your vote!
Vote will be closed April 2, Midnight before the scheduled iPad release.
Petition
If you believe strongly in not using "magical" to describe iPad, head on over to Macenstein's petition and sign it.
Either case, most would agree there should be something against calling the iPod touch as itouch. (Maybe there should be a vote / petition for that too?)
via
Stop the madness! Please sign the "iPad is NOT Magical" petition [macenstein]
Macenstein: the Petition [petitionspot] (requires twitter sign in?)

Related Posts