Apple Announces WiFi iPad US April 3 Availability & March 12 Pre-Order Date
Wonder when is the iPad going to be available in stores? The highly anticipated Apple iPad tablet is almost here! Apple today announced availability of WiFi iPad tablet in the US on Saturday April 3, for Wi-Fi models. Wi-Fi + 3G iPad tablet will be available in late April.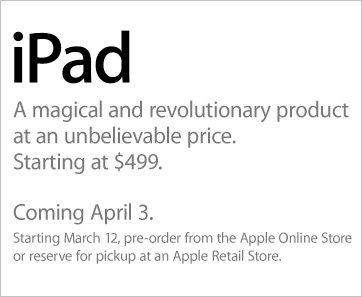 Apple Announces iPad Pre-Order Date
US customers can pre-order both Wi-Fi and Wi-Fi + 3G models of the Apple's iPad on March 12 (a week from today) from the online Apple store. Customers can also reserve a WiFi model for pickup on April 3.
"iPad is something completely new," said Steve Jobs, Apple's CEO. "We're excited for customers to get their hands on this magical and revolutionary product and connect with their apps and content in a more intimate, intuitive and fun way than ever before."
Apple iPad is just 0.5 inches thick and weighs just 1.5 pounds—thinner and lighter than any laptop or netbook.
The iBookstore (available through optional, free iBooks app download in the US on April 3) will feature books from the New York Times Best Seller list from both major and independent publishers, including Hachette Book Group, HarperCollins Publishers, Macmillan Publishers, Penguin Group and Simon & Schuster.
iPad will include 12 new innovative apps designed especially for the Apple iPad tablet, and it can run the over 150,000 Apps from the Apple App Store.
iPad International Release Dates
All models of iPad will be available in Australia, Canada, France, Germany, Italy, Japan, Spain, Switzerland and the UK in late April. iPad will ship in additional countries later this year.
iPad [apple]
via Apple Announces April 3rd Launch Date for Wi-Fi iPad in the U.S. [macrumors]

Related Posts