Amazing iPhone Girl Sings Lady Gaga Poker Face + Beyonce Irreplaceable
Using multiple Apple iPhone as instruments, the talented iPhone girl, AppleGirl02 presents her beautiful voice in these videos.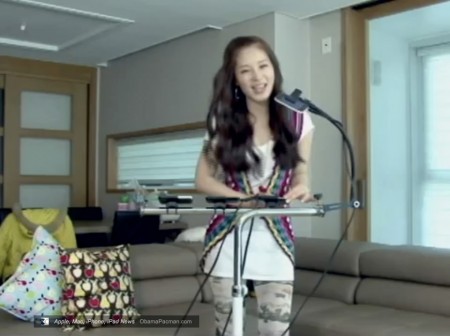 Amazing iPhone girl Sings, Has Beautiful Voice
AppleGirl performs using 3 and 4 iPhones as instruments. iPhone apps used include synthesizer, guitar, piano synthesizer, & drum machine. Anyone know the exact apps? iPhone girl also briefly uses the I Am T-Pain App.
First portion of each video demos the different components of the song.
Beyonce Irreplaceable Live Performance by Amazing iPhone Girl
iPhone girl performs Beyonce hit song "Irreplaceable," singing starts 1:30

Lady Gaga Poker Face Live Performance by Amazing iPhone Girl
iPhone girl singing starts 1:27

AppleGirl is huge fan of the innovative fresh fruit company, she wrote: "I love APPLE, iPhone. It so amazing and useful!!"
Isn't that amazing? That's only with a few of Apple's innovative iPhones. Just imagine what she can do with a few magical iPads.
via
Applegirl002 sings her way into our hearts [macenstein]
(Oh, and perhaps Yann Tiersen needs to get some iPhone mounts?)
Gallery: Amazing iPhone Girl Sings

Related Posts