10% Microsoft Employees use Apple Smartphone: 10,000 iPhones Accessing MS Corporate Network
Microsoft CEO Steve Ballmer might have an abnormal fear of the Apple iPhone, but Wall Street Journal reports "many of Microsoft's own employees are nuts for the [iPhone]," using about 10,000 iPhones around the Microsoft Campus.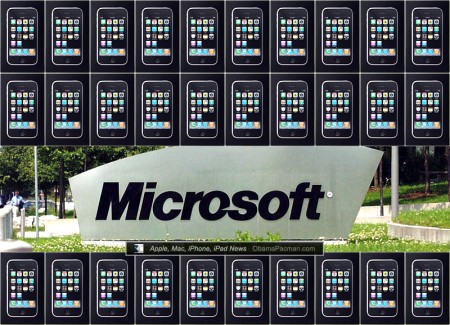 Microsoft XBox / Zune Executive Uses iPhone
One of the top Microsoft executives, J Allard, a 15+ year MS veteran who helped create the Xbox game console and oversees the Zune, uses an iPhone. J Allard is the chief experience officer and Chief Technology Officer for the entertainment and devices division (which also makes the Office for Mac).
Microsoft Campus
Microsoft has made some efforts to prevent employee adoption of Apple devices. In early 2009 Microsoft modified its cellphone policy to only reimburse service fees for Windows Mobile Phones (Wimps).
Microsoft CEO Steve Ballmer even had a public episode where he took an iPhone out of an employee's hands and pretended to stomp on it, in front of hundreds of fellow employees.
Despite that, iPhone users are very visible around the Microsoft campus, with many using the Apple smartphones in conference rooms, cafeterias, and lobbies. By some estimates, there are nearly 10,000 iPhone users on the Microsoft campus connected to Microsoft's corporate email server. That's 10% of Microsoft employees.
Many Microsoft iPhone users hide their Apple devices from Microsoft executives to avoid the Ballmer craziness.
Recent History, iPhone vs. Windows Mobile Phones (Wimps)
It's no surprise some Microsoft executives are threatened by the Apple smartphone. In just over 2 years, Apple's iPhone surpassed a decade of Microsoft WiMP efforts.
Last year, in late 2009, Apple's highly rated iPhone overtook Microsoft Windows Mobile in terms of U.S. mobile subscriber market share, while MS WiMPs continue to lose market share.
Reference
Forbidden Fruit: Microsoft Workers Hide Their iPhones [wsj]
via iPhone-Loving Microsoft Employees Endure Unspeakable Hardship [gizmodo]
Microsoft Image
Microsoft Sign [Johannes Hemmerlein, wiki]
Photoshop by OP Editor

Related Posts