VOIP Phone Calls over 3G on iPad, iPhone, iPod touch: Apps For That
Want to make Voice over Internet Protocol calls on the iPhone platform? There are Apps for that. These Apple App Store approved apps work on iPhone over 3G mobile data network, so by extension the apps will work for iPad mac tablet and iPod touch!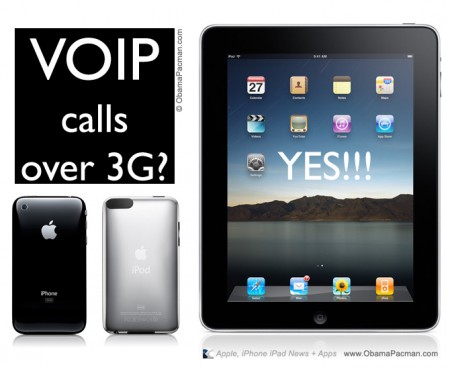 Think Apple iPad tablet is without mobile capabilities? With VOIP apps the iPad and iPod touch is becoming a bit like the iPhone. These iTunes App Store apps allow voice over IP calling over 3G data networks and WiFi:
Fring [iTunes link, free]
Free phone calls over 3G and WiFi
One way video calls over WiFi and 3G
Instant Messaging
Real time combined contacts, friends list
Push notification support for fring, Skype, Google Talk, ICQ, SIP, Twitter, Yahoo, AIM, MSN
iCall [iTunes link, free]
Free, ad-supported USA & Canadian calling
Receive VOIP calls even when the app is not running
Switch cell phone calls to VoIP
Video: VOIP Phone Calls on iPhone iPad with Fring, App Store
Works with iPod touch, second generation or higher, requires an external microphone such as the Apple's headphone microphone that also adds external volume and controls.
iPhone iPad Multitasking
Wait, what about multitasking? How do you receive calls if some people are saying iPad and iPhone cannot run third party apps in the background? Stayed tuned for the next story on iPad iPhone OS multitasking.
Resources
Apple App Store:
Fring [iTunes link]
iCall [iTunes link]
Reference:
Fring blog [fring]
via Fring App Debuts Skype Calls Over iPhone 3G [iphonesavior]
Gallery: Apps for 3G Cellular Network Voice Over IP Calls

Related Posts