Think Apple iPad Costs Too much? Think Again (Chart)
One of the myths about Apple's new tablet computer and eBook reader is that the iPad is too expensive. Actually the iPad is not over priced. Here's why: There's a chart for that!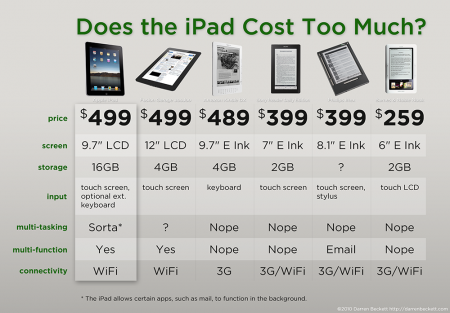 Darren Beckett explains the question of "Does the iPad Cost Too Much?" with a logical chart. The great chart compares the Apple iPad with its eBook reader competition: Fusion Garage JooJoo, Amazon Kindle DX, Sony Reader, Phillips Rex, and Barns & Nobel Nook.
iPad vs. e-Book Industry Competition
The e-Book comparison includes screen size, storage size, input method, multi-tasking, multi-function, and connectivity of iPad with competitors.
Verdict? No. the iPad doesn't cost too much.
The iPad feature comparison chart didn't even have to mention iPad's high quality IPS display, Apple's intuitive multi-touch input, among other advantages of the Apple iPad tablet.
Reference:
Does the iPad Cost Too Much? [darrenbeckett]
via Infographic: Does the iPad cost too much compared to the competition? (No.) [cultofmac]

Related Posts