The $5 Million Dollar H.264 Expensive License Myth
Rumors are that it's expensive to license the Apple supported H.264 video compression. Some say that the royalty costs $5 million dollars. But does H.264 video compression really cost $5 million to license? Is it expensive? Not exactly.
H.264 Apple Exclusive?
H.264 is Apple's preferred video codec for Quicktime, iTunes Store, iPod, iPhone, and the upcoming iPad tablet.
Myths like to portray H.264 as a locked, problematic, Apple exclusive format, but the myths are wrong. H.264, part of the ISO standard MPEG-4 (mp4), is a scalable format with wide range of applications. Numerous companies in telecommunications, consumer electronics, and broadcast industries all use H.264 due to the benefits of H.264 video compression.
For example, Google's YouTube, Vimeo's video services, Blu-Ray players, video cameras, set-top boxes, and many video conferencing products all use H.264.
H.264 Myth: Expensive, $5 Million License Fee
The myth is that it's expensive to license H.264. Some sites even imply that an investment of $5 million is required to license H.264.
But what is the true cost of licensing H.264?
No Royalty: Free Internet Videos
MPEG LA, the non-partisan licensing firm announced this week that internet video using AVC / H.264 (MPEG-4 Part 10) that is free to end users will continue to be royalty free at least until 2016. This includes popular video services such as Google YouTube and Vimeo.
Royalty Free: Up To 100,000 Units Per Year
H.264 has no royalty cost for products sold up to 100,000 units. This royalty free license is available to one legal entity in an affiliated group.
$0.20 Per Unit
H.264 license royalty is $0.20 per units for products sold between 100,000 to 5 million units.
$0.10 Per Unit
Products with sales above 5 million units per year pay $0.10 royalty per unit.
H.264 Royalty Cap = $0.0X, Pennies Per Unit
The $0.10 per unit H.264 royalty is capped at the maximum fee of $5 million in 2010. So the actual cost of H.264 for large businesses can be pennies per unit.
Here's the slide on the tiered H.264 cost: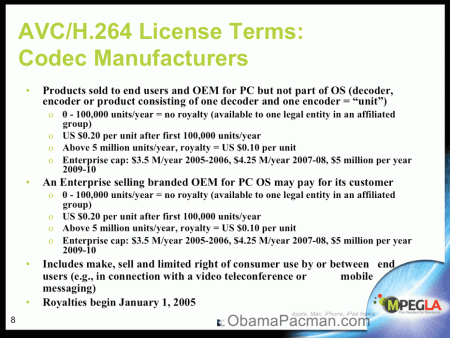 Is H.264 Expensive?
Some pundits like to imply that H.264, which is used by Apple and Google, will hinder the digital age, because H.264 is not free nor open-source.
To put things in perspective, even without putting the H.264 royalty fee in the context of per-unit-pricing that starts from royalty-free, the $5 million licensing cap is a very small amount to pay for a large business. It is not cost prohibitive, and it will not hinder commerce.
For example, instead of actually investing into competent R&D, Microsoft regularly spends hundreds of millions of dollars per year for its various failed products. To support the Vista launch, Microsoft is reported to have spent half-a-billion dollars in advertising. The $500 million dollars doesn't even include the hundreds of millions of dollars Microsoft spent later trying to persuade PC users to buy the poorly reviewed Vista.
Conclusion
So, in summary, what is the real Cost of H.264?
Is H.264 free? No. Is it expensive? no. Does it cost $5 million dollars for each business? No. Therefore, the H.264 licensing is certainly not cost prohibitive to businesses.
A certain FUDster even said "the problem with h264 is that it's patent encumbered. Unfortunately the FUDster ignores the fact that H.264 has been used in various products since 2003 without any of the imagined "potential" problems coming true.
And no, Apple didn't use H.264 to lock users into problematic, expensive format.
Next article will provide an overview of H.264 vs. Ogg, and why businesses choose H.264 / MPEG4.
Reference
AVC License, February 2, 2010 [mpegla]
via H.264 Will Stay Royalty-Free for Free Internet Video Through 2016 [cultofmac]
Gallery: The $5 Million Dollar H.264 License Myth

Related Posts