RDM Covers Myth: Apple iPad is Big iPod touch (in Video!)
Daniel Eran Dilger of Roughly Drafted Magazine is known for his long, comprehensive Apple related tech analysis and Apple-myth busting. This time he goes after the top 10 iPad myths, in Video! First myth: Apple iPad is a big iPod touch.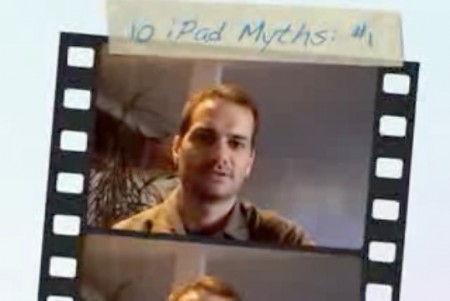 The haters implies that the iPad tablet adds nothing new to the market with the Apple iPad is a big iPod touch myth. Is it true? Did Apple stopped innovating?
Video: Daniel Eran Dilger on iPad is Big iPod touch Myth
Daniel Eran Dilger video highlights:
Not impressed with iPad? "If you are not impressed with the iPad, then what are you impressed with? There is nothing on the market like it."
There is brief mention about why Nintendo CEO, a Mac and iPhone user would say he is unimpressed by the iPad tablet.
Daniel Eran Dilger points out the difference between Apple iPad, a tangible product (with specs, price, and shipping date), to Microsoft's recently demoed slate tablet computer. The main difference is that Microsoft's device is a fantasy / concept / vaporware with no shipping date, that is certain not going to ship in the way it's presented.
Our take, inspired by the RDM article and discussion: Haters? Go ahead, continue to taste your mushy pudding, while Apple fans enjoy the fruit of a tangible, next generation product. (Thanks to counterproductive for the pudding idea.)
via
Ten Myth of Apple's iPad: 1. It's just a big iPod touch [roughlydrafted]

Related Posts